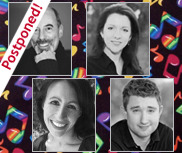 A musical by Richard Maltby and David Shire
The bookless book musical.1 A musical revue in two acts. Every song is a story and all the stories together tell a story of a life we can all recognize, or at least aspects, relationships, dreams fulfilled and unfulfilled… it is lovely and stars:
Doug Schneider, Kate Lambert, Jaime Kurtz and Gary White. Really an all-star cast. With Linda Heuer on piano and musical direction.
Schedule: TBA