Saturday, December 15 at 7:30pm – A Christmas Cabaret
A celebration in words & song, for the whole family
Tickets $10 adults, $5 for under-10s, under-5s are free
Includes cider & cookies.
Doors open at 7pm.
Please note this will not be our regular Cabaret repast.
A special Christmas Cabaret to celebrate the season with words and music.
Come hear some familiar and some not-so-familiar seasonal readings, hear the music and help sing the songs of Yuletide.
Readings from Earl Hamner,Jr. (of course!), Peter Cook & Dudley Moore, Clement C. Moore, Francis P. Church and more!
Including Clinton A. Johnston's Rudolph Redux
and an excerpt from The Homecoming by Earl Hamner, adapted by Peter Coy.
Readers and singers will include Doug Schneider, Patti Finn, Clinton Johnston, Jacquie Harvey, Bill Williamson, Jonas Collins, Rose Harper, Fiona Harper, Grace Clair, Carol Pedersen, Ryan Wender & Herb Wender.
Featuring Bob Bennetta on piano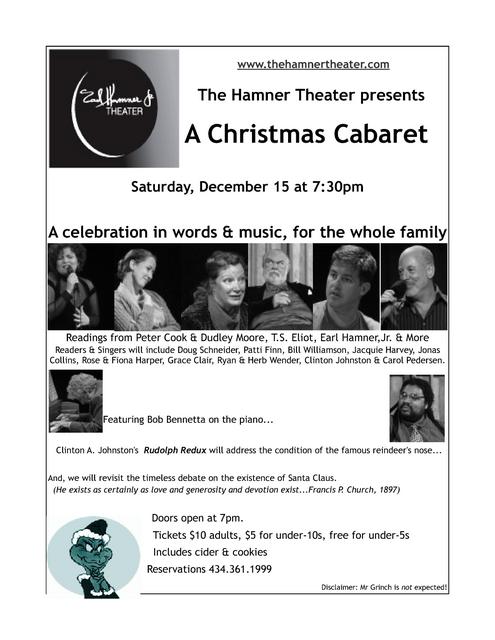 Sunday, December 16 at 7:30pm – Blue Ridge Family Chorus
The Return! Seasonal songs & music for the whole family, by donation.
NEW! New Year's Eve Party
We hope to start another tradition by having a New Year's Eve bash at the theater.
Please call for more information. (361-1999)
Phone 434 361 1999 for information.