September 20, 2010
Welcome to Day One of Earl Week, the Hamner Theater's first pledge drive!
For seven days (and only seven days), we will bring you illuminating facts about the Hamner Theater & our namesake Earl Hamner, suitable for use at cocktail parties & potlucks.
Did you know that Earl Hamner was the most powerful voice in television from 1973 – 1978 with 30 million viewers every Thursday evening? What was the show?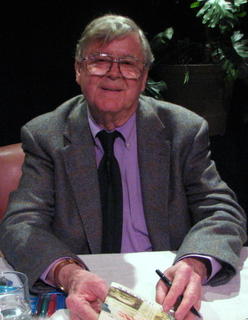 Earl Hamner at the Hamner Theater, March 25, 2007
It is Thanks to YOU, our loyal supporters, that the Hamner Theater is alive and flourishing in Nelson County. We are your theater!
But this theater doesn