September 26, 2010
Welcome to Day 7 of Earl Week, the final day of the Hamner Theater's first pledge drive! This is it – the final day. Have you shown your support for the arts in our community?
Challenge grant status: we are one-third of the way there – Donate today to double your contribution!
We will include contributions received in the post, stay tuned for the final tally.
Did you know that The Homecoming had never been performed in Nelson County before we staged it?
It is Thanks to YOU, our loyal supporters, that the Hamner Theater is alive and flourishing in Nelson County. We are your theater!
But this theater doesn't come for free, or even for the low $10 ticket price.
We can continue to bring theater to you only through your continued generosity.
Your donation will make possible… our 2010-2011 Season:
Onstage in October, Imaginary Letters: Mozart Remembered, coming in November, The Tempest, coming in December, The Gift of the Magi, Then & Now, and, in the spring, a classic play, a new play and Shakespeare in the Vineyard.
Our new performance series, Hamner Cafe Nights, beginning soon.
Special Events including Cry of the Mountain, onstage from Sept. 17-19th, and The Dinah Pehrson Band on Nov. 20th.
Community events including storytelling evenings & weekly improv.
VPSI Readings of Untitled (Sept 24), The Secret Rain (Oct. 22), Therapy the Musical and more.
Our Goal for this Fall Fund Drive is $20,000.
To put this in perspective, $20,000 is 1000 donations of $20.
$20 = Replacement lamp for lighting instrument (OR a bottle of Virginia wine)
Read a letter from Earl Hamner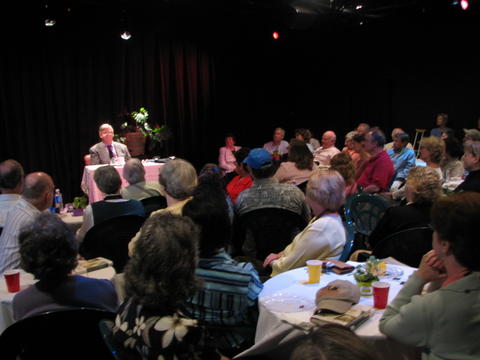 Earl Hamner at the Hamner Theater Reading of Generous Women
To date, we have raised $11,364, including a generous contribution from Earl Hamner.
Any amount you can give will help bring you more theater, more music, more adventure.
Thanks To All Who Have Already Given!
Please accept our heartfelt thanks and know that it is only because of YOU that we are able to continue bringing you:
great plays and playwrights, new and old
wonderful evenings of music and song
vibrant dance performances
unexpected adventures in improvisational theater
special events to surprise you.
Congratulations – today is the last day of Earl Week….but please, feel free to continue sending your donations!
Scroll down for simple instructions for how you can help to make Earl Week a success by giving to the Hamner Theater.
Remember, if we were to survive on ticket price alone, we'd need to charge $133 per ticket to make our basic budget. But we are committed to keeping our ticket prices at $10, so that everyone can come.
Theater is a vital part of any community and we hope when you think 'theater' you think Hamner!
Three easy ways to donate today:
Call 434.361.1999, or, use our contact form to make a pledge.
Download a donation form, and mail it to us at Hamner Theater, P.O. Box 106, Nellysford, Virginia 22958.
Donate via PayPal (no PayPal account required). (If the Paypal link is not showing up for you, please click this link to our website & click on the Donate button there. Thanks!)
Please support the arts in your community by making a donation today –
…The Hamner Theater needs YOU.
The Hamner Theater is a non-profit 501(c)(3) project of the Rockfish Valley Community Center in Nelson County, VA.
All donations to the Hamner Theater are tax-deductible.
Read on to find out some interesting facts about Earl Hamner and the Hamner Theater.
Answers to Day 6 Questions:
11) You Cant Get There From Here
"I wrote this novel as a tribute to my friend, Jack. When I worked as a radio writer at NBC in the early fifties, I became close friends with a writer whose office was down the hall. His name was Jack Wilson. He worshiped words and at heart he was a poet.
Back in those days, I stayed on at my office after hours and wrote novels. Since the public elevators in the RCA Building stopped running at midnight, Jack and I would frequently run into each other on the freight elevator. After a hard day's work, we would usually look for relaxation in jazz joints like Jimmy Ryan's over on 52nd Street or Eddie Condons down in the Village. Jack was fond of boilermakers. I tried to keep up with him and failed. But while we were still vocal we would play a game that Jack had made up. It was called "You Can't Get There from Here." The concept was that we, Jack and I, and indeed most of the people we knew, had come so far from the precious places in our lives and we ourselves had changed so greatly in our journey that we could not get back to them. It was simply a variant on the theme that Thomas Wolfe so brilliantly wrote about in You Can't Go Home Again. Jack was from Altoona, Pennsylvania, and that was the place he could not get back to. The place I couldn't get back to, of course, was Schuyler, Virginia." – Earl Hamner
12) Hamner Theater
Bonus Question:
How many Hamner Theater staff members does it take to change a light bulb?
Auditions are on Friday night. Bring a monologue & come dressed to move.
Can you answer the following?
Who couldn't do it without you?
If you know someone who might need help with cocktail conversation material, please forward this message to them. Thanks again.