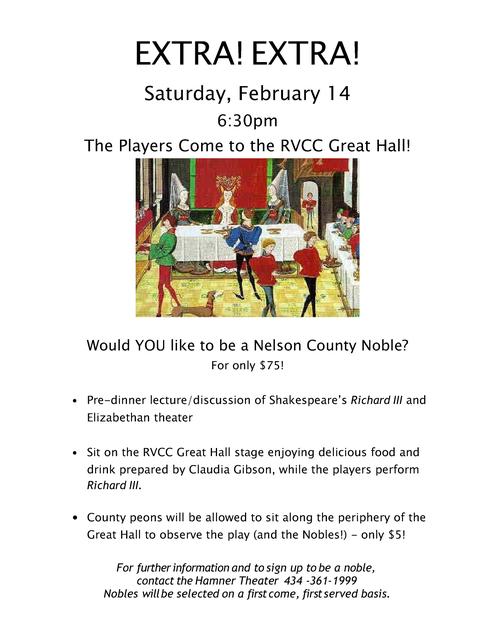 Menu for the Banquet, prepared by Claudia Gibson:
Appetizer – Antipasto plate with olives, roasted red peppers, Italian meats, artichokes, marinated garbanzos, hummus dip
Fruit served with homemade organic Italian bread
Smoked salmon on endive
Bread basket of homemade organic rolls with herbed butter
Mixed green salad with raspberry viniagrette
Curried carrot soup
Choice of Entree – Chicken Marbella or Torta Rustica (vegetarian)
Risotto with pinenuts, garlic and winter greens
Dessert – Tiramisu and choice of coffee or tea
Richard III
Onstage February 11 – 21
All tickets $10 for the following performances, to be held in the Hamner Theater:
Thursday, February 12 at 7:30pm
Friday, February 13 at 7:30pm
Sunday, February 15 at 2:00pm
Thursday, February 19 at 7:30pm
Friday, February 20 at 7:30pm
Saturday, February 21 at 7:30pm
Special show – Saturday, February 14 at 6:30pm in the Great Hall
Tickets $75 for Nobles (includes Banquet, Lecture/Discussion & Preferred Seating)/ $5 for Show only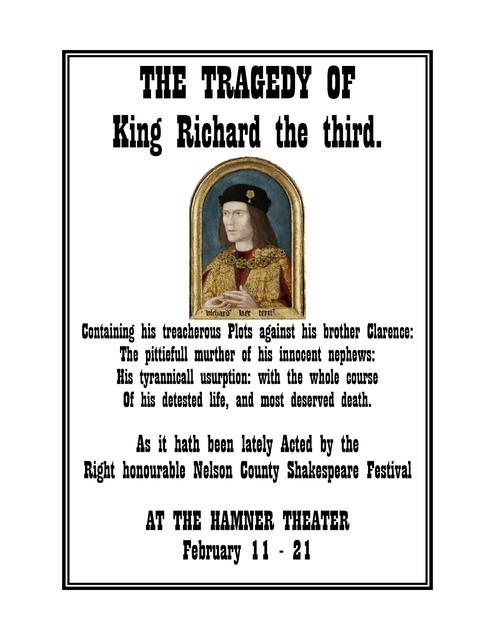 A Renaissance is coming to Nelson County theater with the first ever Nelson County Shakespeare Festival production of Shakespeare's RICHARD III. Using Elizabethan rehearsal practices like memorizing all your lines by the first rehearsal, actor-manager (another Elizabethan practice), Mary Coy is organizing a production of RICHARD III that takes advantage of the theater energy generated by the Hamner Theater and her six years work as Shakespeare consultant at the Nelson Middle School.
"RICHARD III is about the lengths one man will go to obtain and maintain power," says Coy, Richard manipulates his friends, the church, and the public to get what he wants. He will stop at nothing. It will be interesting to see how much the audience is repelled by or attracted to him."
Besides years of experience acting and coaching Shakespeare, Coy has a Masters of Fine Arts in Shakespeare and Renaissance Literature in Performance from Mary Baldwin College and has worked as assistant director and stage manager at the Blackfriars Playhouse in Staunton. Along with Nelson County Schools Gifted Coordinator Betty Tabony, Coy has written a manual, which guides teachers in using Shakespeare to fulfill SOL's and has taught Shakespeare to hundreds of Nelson County sixth graders. She and Tabony recently co-authored a young people's version of KING LEAR for Swan Books.
"Performing Shakespeare is a challenge and I want to embark on that challenge here in the county with the adults and kids I've worked with over the years, people who know how much I love to teach and perform, people who want to challenge themselves." says Coy.
Performances will be held at the Hamner Theater from February 11-21. There will also be one special banquet/performance in the Rockfish Valley Community Center "Great Hall" on Saturday, February 14.