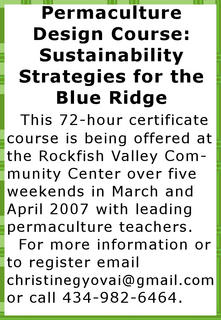 Permaculture Design Course: Sustainability Strategies for the Blue Ridge
March and April 2007
Rockfish Valley Community Center located near Charlottesville , Virginia
The Permaculture Design Course provides tools to help you design and develop your own property sustainably, revitalize your local community, and restore ecological balance. Permaculture promotes land use systems that work with natural rhythms and patterns to create sustainable cultivated ecosystems. Participants will learn how to design and build gardens that model living ecosystems. By understanding patterns in nature students will learn how to grow food, manage water catchment and storage, utilize renewable energy and build community.
The course covers themes such as: ecological systems understanding, organic food production, natural soil improvement, watershed restoration, water conservation and management, edible forest gardening, native medicinal plants, natural habitat restoration, healthy buildings and human settlements, renewable energy systems, sustainable community development, local economics, reducing our ecological footprint, and ecological planning and design methods.
This 72 hour certificate course, presented by the Association for Regenerative Culture and the Blue Ridge Permaculture Network, is a rare opportunity to learn from the best teachers in the permaculture movement. The course will be held over five weekends at the Rockfish Valley Community Center in March and April 2007. The cost for the course is $895, and limited work trade positions are available. Early registration is encouraged as space is limited.
For more information about the course including registration, directions, and faculty visit www.permacultureactivist.net or contact Christine Gyovai at 434-982-6464 or christinegyovai@gmail.com.