October 15 – 17, 2009
by David Mamet
Be sure to phone for reservations – only a few seats are left for Friday & Saturday performances.
All tickets $10.
Reservations suggested, (434)361.1999
Directed by Boomie Pedersen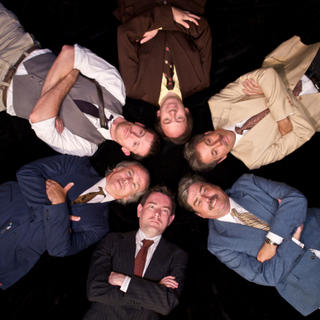 image courtesy Jason Lappa, eVo Studios
The Live Arts production visits the Hamner for 3 shows only:
Thursday, October 15 at 7:30 p.m.
Friday, October 16 at 7:30 p.m. SOLD-OUT
Saturday, October 17 at 7:30 p.m.
There will be a free preview performance on Wednesday, October 14 at 7:30 p.m.
All tickets $10.
Reservations suggested, (434)361.1999
Adult themes and language, parental discretion advised.
This Pulitzer winning play by one of America's premier dramatists paints a picture of survival in the real estate world of the 1980s, where greed is the flavor of the day and success comes at all costs.
The cast features Jim Johnston, Chris Patrick, Kevin O'Donnell, Harold Langsom, Michael Volpendesta, Bill LeSueur and Scott Dunn, directed by Hamner Theater Co-Artistic Director, Boomie Pedersen.
"A chillingly funny indictment of a world in which you are what you sell." (Guardian)
Glengarry cast: a bunch of closers? by Andrew Cedermark, C-ville Weekly, 9/25/2009
"artfully choreographed language and forceful performances from a veteran cast…"
"Live Arts is drama location, location, location" by Claire Aukofer, Daily Progress, 9/25/2009
'…Michael Volpendesta has one of the best scenes in the play as Roma, a top salesman and smooth talker who may articulate much of Mamet's premise as he seduces a sale to a stranger.
All of the men in this show… deserve kudos.
Kevin O'Donnell gives a superb performance as Dave, a man's man with big ideas. The difficult dialog seems as natural to him as mothers milk, and he is believable every moment.
Bill LeSueur also shines as the only customer among these smooth-talking salesmen — a milquetoast conned by Roma's charm and, in the end, as desperate as the salesmen in his own way. His job is difficult, since he conveys his character with very little language.'
Special Performance: Friday, October 16
HIT on the Set of Glengarry Glen Ross!
There will be a Free performance by HIT, the Hamner Improv Troupe, Friday, October 16 at 9:30 p.m., following Glengarry Glen Ross.
Ever felt trapped in an office? Get HIT to act out your wildest fantasies!