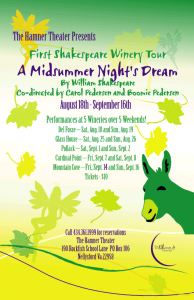 Sumer is a cumin' in, ludly sing cuckoo…
Upcoming Events
Friday August 10 and Saturday August 11  7:30pm – doors at 7pm  tickets $10
Agate Hill to Appomattox
Barbara Bates Smith and Jeff Sebens.
Three standout authors, Lee Smith, Ron Rash and Allan Gurganus have let us compile their prized narratives into a zesty, bold and gripping Civil War tapestry. (Ron Rash's novel Serena is currently filming in Hollywood.)
August 18 to September 16
Shakespeare Winery Tour
A Midsummer Night's Dream
Details here
The Hamner Theater is proud to announce its inaugural tour of local wineries for five weekend performances of Shakespeare's comedy.
5 weekends, 5 wineries
Gate opens an hour before curtain time at each venue.  Tickets are $10 at the gate and are un-reserved – Festival seating, first come – first served.  Chairs available at Del Fosse, Glasshouse and Pollak or bring your own chairs, or bring a blanket and stretch out with a picnic…
Buy local… local wines and local theater… a winning combination!
Earlier Events
Saturday June 2
The Karl Stoll Power Trio
Rockin' Blues, Rockabilly, Rock & Roll
Friday June 8 and Saturday, June 9
The Beat Retreat
Presented by Good Foot Dance Co. with Matthew Olwell and Emily Oleson
Details here
Saturday June 23
Summer Solstice Dance at the Hamner with DJ Edwina Herring
Saturday July 7
Central Virginia Blues Society Monthly Jam
Details here
Monday July 30 to Saturday August 4
Where Chaos Sleeps – CANCELLED!!!
By Peter Coy, for the Wintergreen Performing Arts Summer Fest at the Hamner
FROM WPA: We regret to announce that the six Festival performances (July 30-August 4) of Where Chaos Sleeps are being cancelled due to illness and other circumstances beyond our control. Anyone who has purchased tickets (through WPA) will be entitled to a full refund.