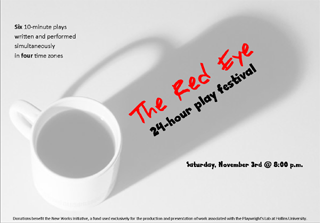 24-Hour, 10 Minute Play Festival
At the Wayne Theatre
November 3, 2012 at 8pm
Four Locations, Four Time Zones
The Wayne Theatre Alliance and the Hamner Theater will join forces to present the East Coast segment of Hollins University's Red Eye Theatre Festival on Saturday, November 3 at WTA's Gateway in downtown Waynesboro.
The Red Eye Theatre Festival will feature seven scripts selected by a jury of playwrights. Seven directors and approximate 25 actors will gather in the four locations across the United States on November 3. At 8am, the directors will draw their script, select their actors and go into rehearsal. At 8 pm the seven casts will mount the stage in each of the four locations and present their family-friendly scripts to the audience. The performances will be video-taped for later use.
The unusual theatrical event will be organized by Wendy-Marie Foerster from her location in California. The East Coast coordinators are Boomie Pedersen, Artistic Director of the Hamner Theater and Clair Myers of the Wayne Theatre Alliance. Members of the Waynesboro Players will also be part of the Festival.