Writings To Stop Violence Against Women and Girls
A Benefit
A groundbreaking collection of monologues by world-renowned authors and playwrights. Change The Story Of Women!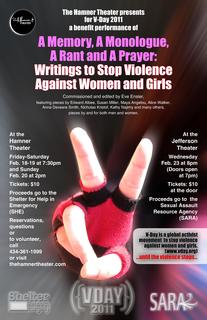 V-Day is a movement dedicated to stopping violence against women and girls all over the globe. Every year there is a "spotlight" area – this year it is Haiti. But it is all too easy to ignore what is happening in our own community – we are all touched in some way by violence against women and we can all join together to raise awareness, to say "no more," to work until the violence stops.
A Memory, A Monologue, A Rant and A Prayer is a collection of writings commissioned and edited by Eve Ensler from a very diverse group of authors and playwrights, from Edward Albee and Lynn Nottage to Alice Walker and Nicholas Kristof. There are both male and female voices heard, because after all, we are all involved.
Cast: Richard Averitt, Rose Harper, April Winsheimer, Jim Johnston, Chris Courtenay, Mary Coy, Kevin O'Donnell, Kerry Moran, Geri Schirmer, Lori Strother, Richard Cooper, Phyllis Gardner, Jane Hearne, Clinton Johnston and Broocks Willich.
Directed by Boomie Pedersen.
The performance will last for 90 minutes, and will include a different selections of works each evening. Each evening will feature music by Tanya Kae and a special preview screening of Kevin O'Donnell's short film THREE SECRETS.
Call the Hamner Theater, 434 361 1999, if you would like to donate or volunteer to help.
V-Day Afton At the Hamner Theater,
Friday, February 18 at 7:30 p.m. Doors 7:00 p.m.
Saturday, February 19 at 7:30 p.m. Doors 7:00 p.m.
Sunday, February 20 at 2:00 p.m. Doors 1:30 p.m.
Admission $10, reservations advised, 434 361 1999
Proceeds from the Hamner Theater performances will go to SHE, the Shelter for Help in Emergency
V-Day Charlottesville At the Jefferson Theater,
Wednesday, February 23 at 8:00 p.m. Doors 7:00 p.m.
Admission $10, at the door
Proceeds from the Jefferson performance will go to SARA, the Sexual Assault Resource Agency
About V-Day:
V-Day is a global activist movement to end violence against women and girls by raising funds and awareness through benefit productions of founder/playwright Eve Ensler's The Vagina Monologues and other works. The V-Day movement is growing at a rapid pace throughout the world, in 130 countries from Europe to Asia, Africa and the Caribbean and all of North America. In 2010, over 5,400 V-Day benefit events took place produced by volunteer activists in the U.S. and around the world. V-Day, a non-profit corporation, distributes funds to grassroots, national and international organizations and programs that work to stop violence against women and girls. The 'V' in V-Day stands for Victory, Valentine and Vagina.
About SHE:
The Shelter offers a variety of services designed to empower victims of domestic violence and to create a community of support, including
emergency, temporary housing,
a 24-hour hotline,
free individual and group counseling,
children's programs,
legal advocacy.
The Shelter for Help in Emergency offers emergency, temporary housing to victims of domestic violence in need of safety. There are 20 beds available and priority is given to residents of Planning District Ten, which encompasses the city of Charlottesville and the surrounding counties of Albemarle, Fluvanna, Greene, Louisa and Nelson. Since opening its doors in 1979, the Shelter for Help in Emergency has provided shelter for more than 250 people each year, many of them children.
About SARA:
SARA's staff of 8 provides
direct services to survivors of sexual assault, and their family and friends,
prevention education, primarily to schools and youth-serving organizations,
training for allied professionals such as medical and legal professionals,
community training and awareness events.
Services are provided free to all survivors, regardless of race, gender, sexual orientation, gender expression or identity, age, economic status, education, parenthood, physical and/or mental abilities, national origin, or any other status. SARA works with the communities of Charlottesville, and Albemarle, Fluvanna, Greene, Louisa and Nelson Counties, providing direct services to approximately 1,000 people each year and reaching hundreds more through education and community outreach programs. SARA has been providing services to the community for over 30 years.
Thanks to our friends at Democracy Vineyards for their support for V-Day 2011.