There will be a Staged Reading of Another Day, Another Pound by Alisa Beth Adkins, directed by Theresa Davis (UVA) on Friday, June 4 at 7 p.m.
All VPSI readings are open to the public and free of charge.
The reading is followed by an audience discussion of the play, which is the payoff for the playwright.
Come listen to a brand new play and share your reactions with the author.

About the Play: B.A.B.E., a twenty-year old college student, has struggled with weight her entire life. After three months of sessions with a psychologist, during which she has failed to uncover what she wants from life, she takes matters into her own hands and kidnaps family and friends, both past and present. Each person pleads their case, in turn, describing their experiences with B.A.B.E. and how they view weight amongst themselves and in society.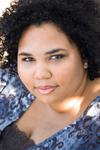 About the Playwright: Alisa Beth Adkins is a recent graduate from the University of Virginia with a B.A. in Drama. While at U.Va. she was an ensemble member in the production of "Day of Absence," directed by Professor Theresa M. Davis. "Another Day, Another Pound" is her first play and solo piece. She is moving to Chicago this summer with the aspiration of producing her one-woman show.
This reading is a VPSI Special Event.
Click to read more about VPSI, the Virginia Playwrights & Screenwriters Initiative.