July 11 – 25th VPSI Summer Conference
Free Staged Readings held July 20, 22, 24 & 25th.
The Virginia Playwrights and Screenwriters Initiative (VPSI) is a part of the Hamner Theater's continuing mission to foster new works for the stage, especially (but not exclusively) those by Virginia playwrights & screenwriters.
VPSI provides a venue for the writer to workshop, rewrite and rehearse a new script with a company of experienced actors, a director and a dramaturg. The author participates in a process of readings, rehearsal and discussions with cast, director and dramaturg, culminating in a public staged reading. Following the reading, there will be a discussion open to all.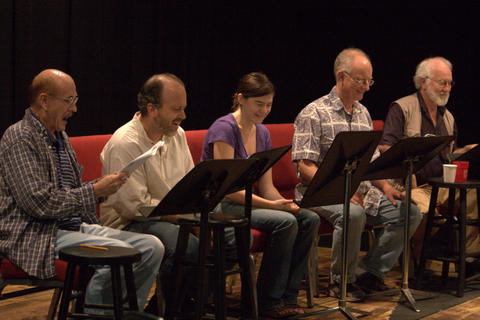 VPSI Company Reading La Fornarina, by Aurora Mateos
with, from left, Brian O'Connor, Robart Wray, Puja Tolton, John Lawson, Rick Hite
Readings Open to the Public:
All VPSI Readings are Free!
Tuesday, July 20
7:30 p.m. Ocean View Odyssey by Robert Wray
Thursday, July 22
7:30 p.m. Commedia Profana by John Lawson
Saturday, July 24
3:00 p.m. The Valley of Argos by Brent Cirves
7:00 p.m. The first warm day of spring by Peter Coy
Sunday, July 25
1:00 p.m. La Fornarina by Aurora Mateos, translated by Rick Hite
4:00 p.m. A Christmas Carol by Clinton A. Johnston
Playwrights participating in the VPSI Summer Conference: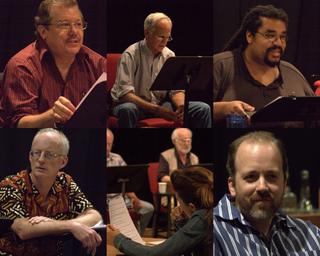 (clockwise, from top left) Brent Cirves, Peter Coy, Clinton Johnston, Robert Wray, Aurora Mateos, John Lawson
Brent Cirves (The Valley of Argos)
Brent Cirves is a published writer and has had a number of plays produced, most recently his adaptation of THE FALL OF THE HOUSE OF USHER, written with Mike Johnson, and EXILES FROM THE SUN, a family drama.USHER appeared at the Washington D.C. Fringe Festival last summer where it won the prize for "Best Musical Play." USHER and EXILES both went on to the New York International Fringe Festival,appearing in repertory at the Connelly Theatre in Manhattan. Cirves is the first author to have had two full-length plays produced in the same summer at the NYC Fringe. He is also the chairman of the Fine Arts Department at Woodberry Forest School where he teaches and directs three shows per year.
Peter Coy (The first warm day of spring)
Peter Coy lives in Faber, VA. His career in the theatre includes work as a director, a producer, a playwright, and a stage manager. Since 1987 he has written several one-acts, two screenplays, and 25 full-length plays and adaptations.
Clinton A. Johnston (A Christmas Carol)
Playwright Clinton A. Johnston, a member of the theater faculty at Mary Baldwin College, holds an MFA in Directing from UVA, and has more than a decade of experience acting and directing in local theaters. Recent directorial credits include Othello at Four County Players, and Macbeth, Ph.D. for Mary Baldwin. His play, Am I Black Enough, Yet? was co-produced by the Hamner Theater and Charter Theater, and was performed in Nellysford, Roanoke, Charlottesville & Washington, D.C. in March 2008.
John Lawson (Commedia Profana)
Playwright John Lawson was born and raised in Richmond. He teaches rhetoric and writing at Robert Morris University in Pittsburgh.
Aurora Mateos with translator Rick Hite (La Fornarina)
Aurora Mateos is a Spanish playwright. She is considered one of the emerging voices in recent studies and compilations of modern Spanish Theatre, such as Estreno in the US, the University Autónoma de México, and Asociación de Autores de Teatro (Spanish Dramatist Guild). Her plays are already receiving stage readings and productions all over the country. She holds several awards, including the Martin Recuerda for the play Suicide of an Angel, which received a workshop production at the Hamner Theater in 2007. She has been finalist in the most important awards in Spain (like the Calderón, Sevilla, Enrique Llovet…). More information is available at: www.auroramateos.com.
Translator Rick Hite has acted and directed in community, university, and professional theater for over fifty years. He has also worked in film and television. Among his favorite roles he would include Shakespeare's King Lear, Prospero, Touchstone, Mercutio, and Orlando, Moliere's Alceste, Chekhov's Vershinin, Brecht's Peachum, Pinter's Deeley, and Albee's George. His longest run was as Tevye in Fiddler on the Roof. He also writes and translates plays and poetry (from Spanish). He was Professor of Theater for 30 years at Virginia Wesleyan College and holds degrees from Dartmouth, Johns Hopkins, and Michigan State University.
Robert Wray (Ocean View Odyssey)
Charlottesville playwright Robert Wray is a graduate of the Iowa Playwrights Workshop and has had plays produced all over the country. He has won the Marc A. Klein Playwriting Award, and was a Kennedy Center/American College Theatre Festival and a Heideman Award finalist. In March, 2010, his play All Is Always Now (which was developed, in part, at VPSI ) was staged as part of the Hamner Theater's 5th season.