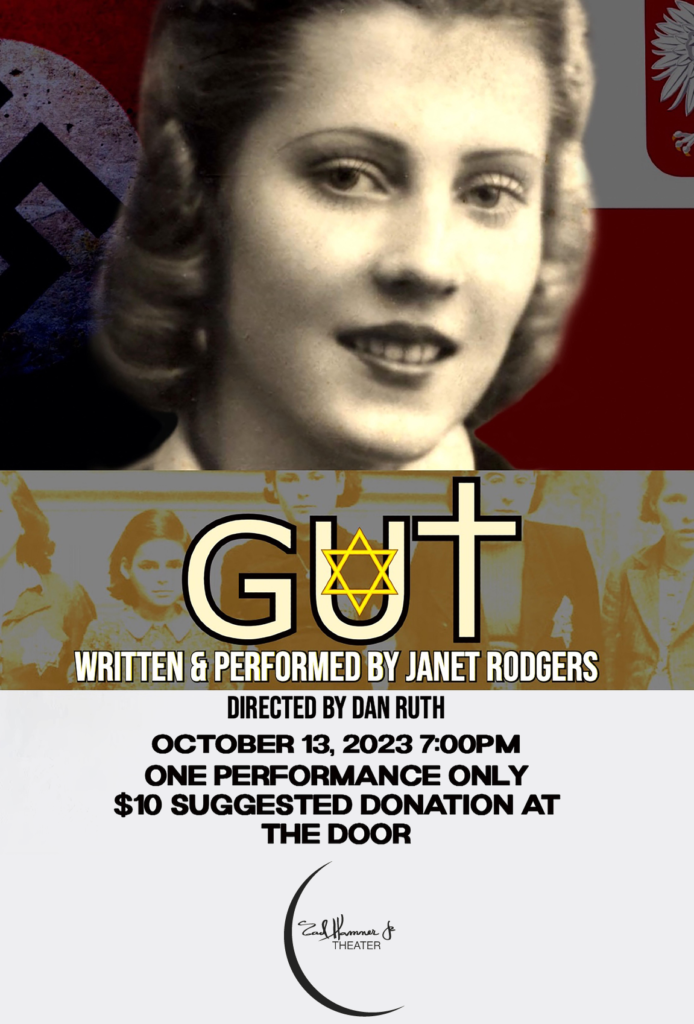 ---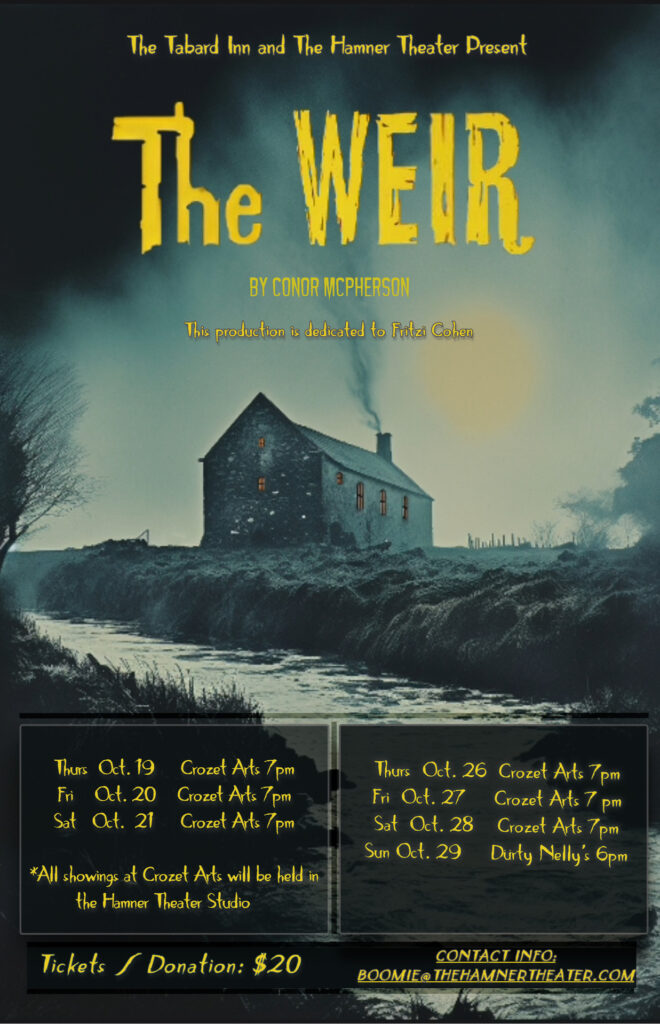 ---
BLACK LIVES MATTER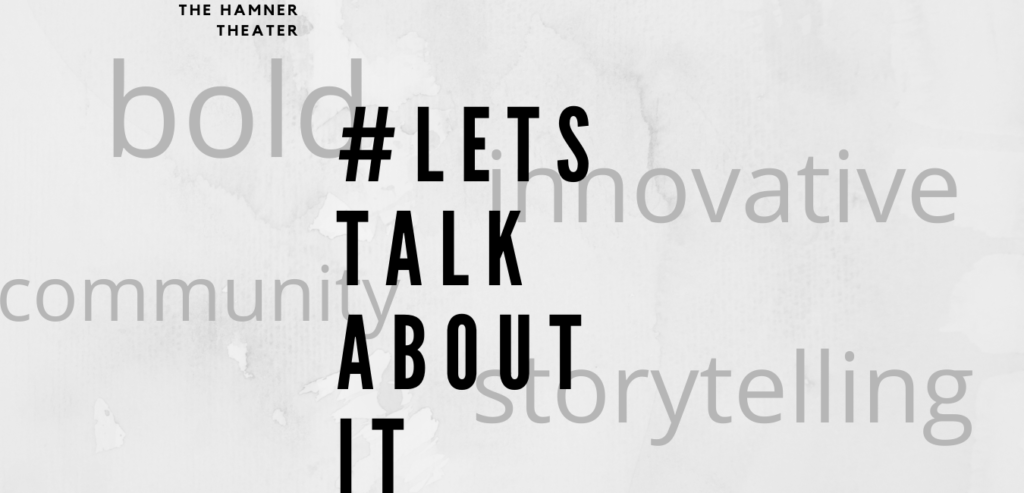 In these tumultuous times of unrest and injustice, the Hamner Theater stands in solidarity with our black family and all communities of color; we remain committed to telling the stories of our community, all of them, giving voice to the voiceless and forgotten. Black lives matter. The great work continues: to amplify the voices of black artists and listen to what they say; to be aware of the systemic racism inherent in our organization and the organizations we associate with and act to dismantle it; to educate ourselves about the lives and experiences of black Americans and the history of black America and to let that knowledge power the pursuit of equity and reinvention of our world.
I saw this link on the Wooly Mammoth website and am passing it on. https://www.bagofbeans.net/copy-of-wtsu-resources
We can all do something; let's all do what we can.
---
Theater Classes for Adults
Taught by Boomie Pedersen, Co-founder & Director of Hamner Theater.
Email Boomie@thehamnertheater.com with questions and to register.
All classes are $25/a la carte (limit 2) or $20/7 or more class session
Discount of 10% for multiple classes (ex.: Joy of Acting and Storytelling; Storytelling and Shakespeare)
Anyone who participates in a class session (7 or more classes) is welcome to join our production (no cost).
Rehearsal and performance dates will be announced in September.
Joy of Acting
Mondays: 1:00 – 3:00 pm
Sept. 11 – Dec. 18, 2023 (15 weeks)
(can be purchased in 2 sessions – 8 weeks – Sept. 11 – Oct. 30 = $160; or
7 weeks – Nov. 6 – Dec. 18 = $140. Purchasing the entire series = $250
Email
Taught by Boomie Pedersen, Co-founder & Director of Hamner Theater.
Email Boomie@thehamnertheater.com with questions and to register.
to register
•
Storytelling
Mondays: 11:00 am – 1:00 pm
Session 1: Sept. 11 – Oct. 30, 2023 (8 weeks)
Cost: $160
Session 2: Nov. 6 – Dec. 18, 2023 (7 weeks)
Cost: $140
Purchasing the entire Storytelling series = $250
Email
Taught by Boomie Pedersen, Co-founder & Director of Hamner Theater.
Email Boomie@thehamnertheater.com with questions and to register.
to register
•••
Speaking Shakespeare
Tuesdays: 11:00 am – 1:00 pm
Sept. 12 – Oct. 31, 2023 (8 weeks)
Cost: $160 ($20/session)
Email
Taught by Boomie Pedersen, Co-founder & Director of Hamner Theater.
Email Boomie@thehamnertheater.com with questions and to register.
to register
•••
Improv
For Adults
Led by Boomie Pedersen
Free and open to the public
Saturdays: 1:30 – 3:30 pm
Mondays: 6:00 – 8:00 pm

For current info and to confirm meeting dates
please email Boomie@thehamnertheater.com

•
The Hamner Players Production – Christmas/Holiday event – tbd
Potential rehearsal days – Tuesdays: 1:30 – 3:30 pm; Thursdays: 11 am – 1 pm or 1:30 – 3:30 pm
Performances to be scheduled between Dec. 1 – 21, 2023
•
To receive updates, sign-up for our e-newsletter on the Home page
(lower right corner, under "C-Arts News).
Click here to go to The Hamner Theater at Crozet Arts webpage.
•
Boomie Pedersen was born and raised in NYC. She has lived, taught, performed and studied in NY; Tokyo, Japan; Los Angeles, CA and now in Virginia. She was a scholarship dance student with the Joffrey Ballet but gave up ballet to go to college. Boomie holds a BA in English and Theater/Dance from Princeton University, and recently completed her MFA in Pedagogy and Performance at VCU. She is Artistic Director of the Hamner Theater, which she co-founded in 2005; she runs the Hamner Improv Troupe and has taught Improv extensively to all ages as well as to businesses, caregivers and in other areas where Applied Improv is applicable. She does Playback Theater, has acted, directed and produced in theaters in Charlottesville as well as Richmond. She also founded the Central Virginia Theater Alliance and is active in the GCCA (Greater Crozet Arts Alliance). Boomie is the Theater Advisor for Crozet Arts where she also teaches theater classes for children and adults and looks forward to introducing the Crozet Theater Workshop at Crozet Arts to the community.
________________________________________________________________________________________________________________
The Jefferson School African American Heritage Center's Charlottesville Players Guild and the Hamner Theater are partnering to bring you three nights of Edward Albee's Marriage Play. This collaboration was born out of friendship, community and the recognition of a need in the theatre community. Authentic community is created from fierce love, understanding and full celebration of our humanness. It is in this spirit that we present a play about the ultimate collaboration, marriage, to the larger theatre community. Marriage Play was commissioned by Vienna's English Theatre and premiered in 1987. It was performed in Houston at the Alley Theatre in Jan. of 1992 and had its East Coast premiere at McCarter Theatre in Princeton, NJ. The story follows Gillian and Jack a couple who have been married for decades. It begins with Jack's announcement that he is leaving. Gillian retorts with disbelief and asks him to try it again. Through verbal and physical battles, the pair explore their life together and the institution of marriage. It has been described as a return to absurdism, and scholarly analysis presents Marriage Play as one of Albee's best, dictating it as a commentary on the social convention of marriage.
MARRIAGE PLAY
Marriage Play by Edward Albee
Jack – Chris Baumer, Gillian – Boomie Pedersen
Directed by Larry Goldstein
Tickets are $25 and will be held at will call. April 27 & 28 House will open at 7 p.m., the performance will begin at 7:30 p.m. April 29 House will open at 7:30 p.m., the performance will begin at 8 p.m. Tickets at: https://jeffschoolheritagecenter.org/events/marriage-play-cpg-fundraiser/
For media inquiries and questions email publicprograms@jeffschoolheritagecenter.org.
ALL ABOUT WATER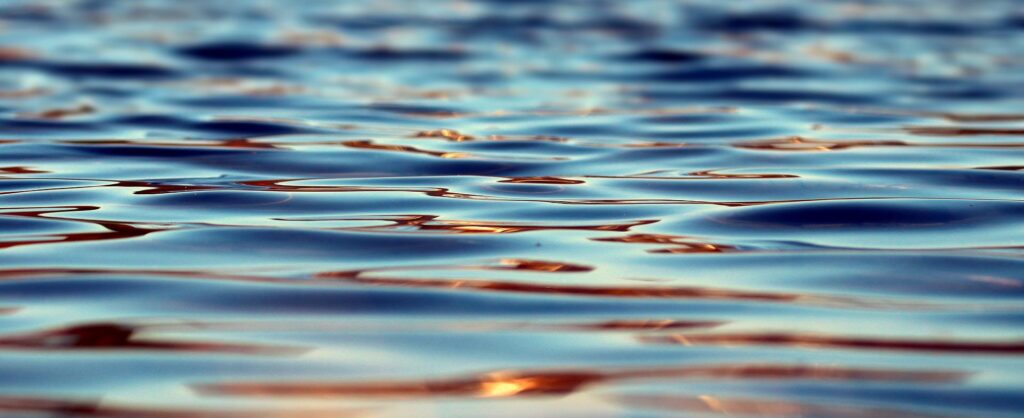 The Water Appreciation Experience and Hamner Theater have partnered to present performances and facilitate conversations about our relationship with water. The next set of performances will include videodance, monologue and music. New Community Conversations are planned for Sat., May 20 at 4 p.m.; Sat., June 17 at 4 p.m. and Sat., July 15 at 4 p.m.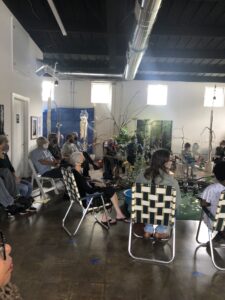 A READING WITH STAN TRENT
COMING SOON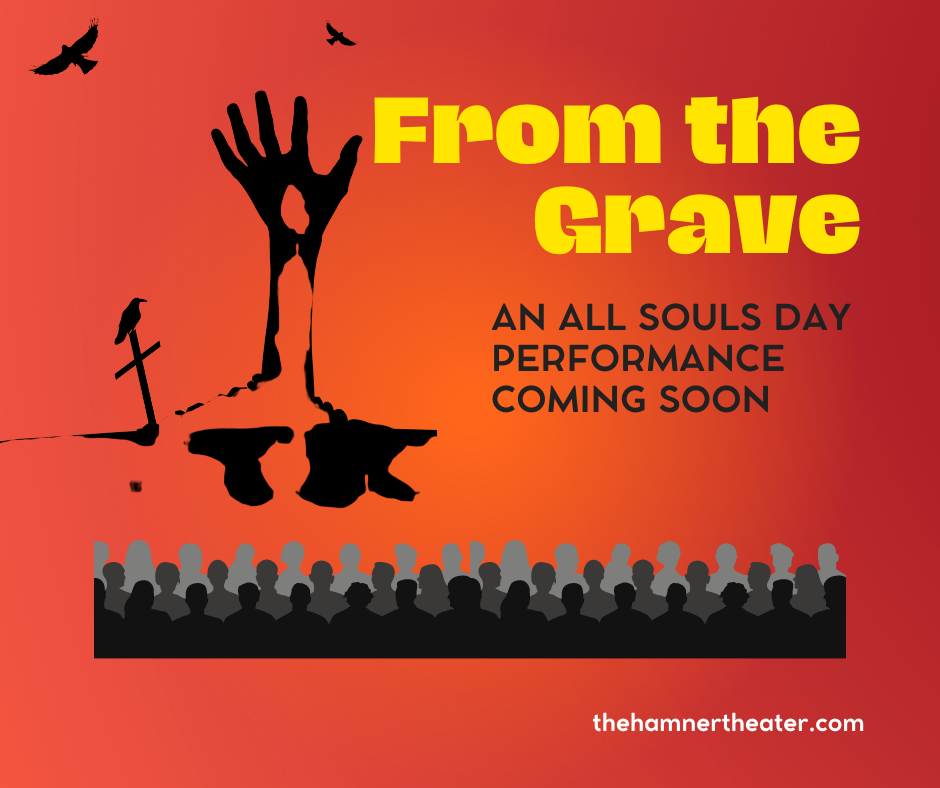 ONGOING AT THE HAMNER
IMPROV
Join us each Sunday at 3 p.m. EST for improv with the Hamner Improv Troupe (HIT)! Email boomie@thehamnertheater.com for more information.
COMMUNITY CONVERSATIONS
The Hamner hosts virtual and in-person Community Conversations. Some of the Community Conversations are agenda-less meetings where participants are free to talk about issues in their lives, in their communities, or in the world, and the other half begins with a theatrical offering to guide the conversation. Please check our calendar for specifics on what type of conversation is happening that day!
Everyone is welcome, please email boomie@thehamnertheater.com to confirm your attendance!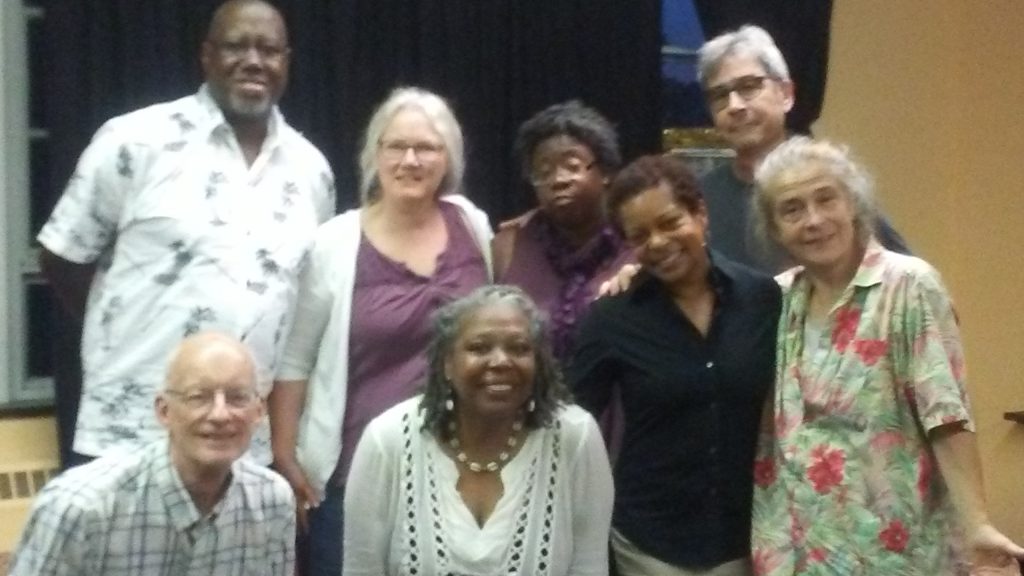 PAST COMMUNITY CONVERSATIONS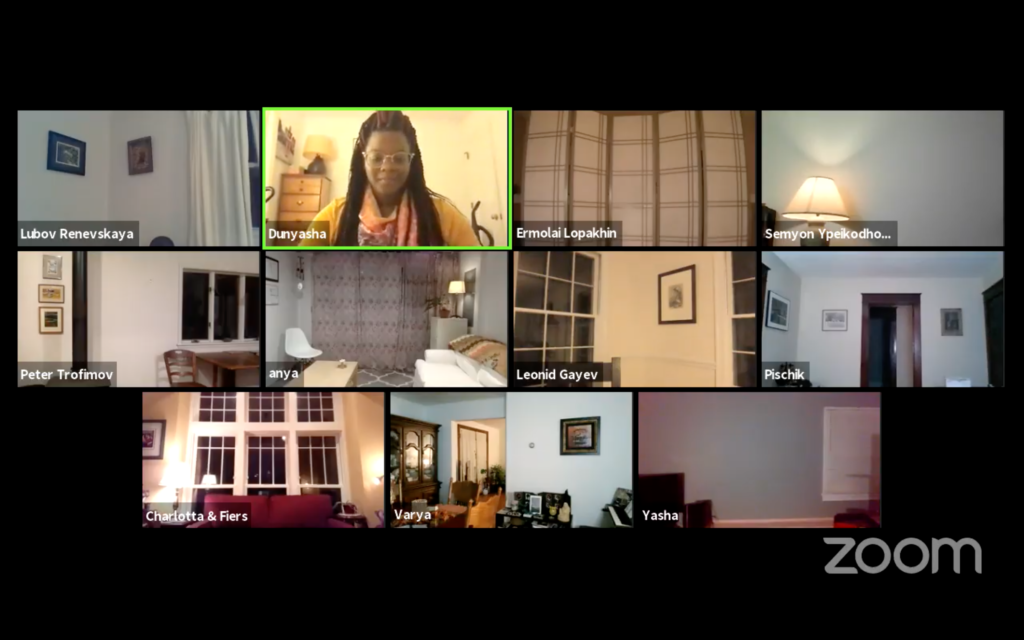 Visit The Hamner Theater's youtube page for Community Conversations on the Newtown Project – Kaleidoscope in Black and White: The Cherry Orchard, Act 1.
The stellar cast of this performance included (in alphabetic order, women first) Denise Folley, Abena Foreman, Kiri Gardner, Kate Monaghan, Dinah Pehrson, Chris Baumer, Larry Goldstein, Joe Monaghan, John Rabasa, Rasheed Robinson, Dan Stern and Kurt Vogelsang. The adaptation is by Doug Grissom who worked tirelessly to design a version of The Cherry Orchard for this odd time in which we find ourselves!