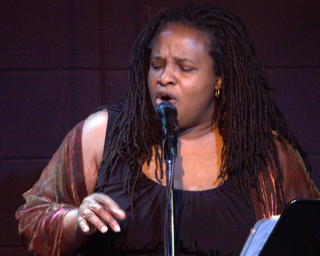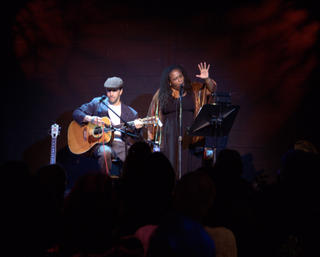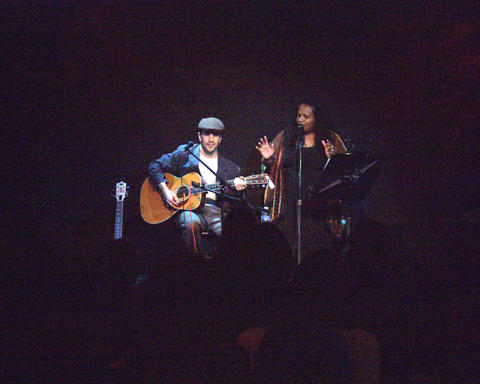 Music 7:30 pm, Doors/Bar/Food 6:30 pm.
Tickets are $20 (or 2 for $35), includes food (by reservation only)
Please call 434-361-1999 for reservations.
Lori Strother, the 'Dreaded Blues Lady', received her first standing ovation after singing at a school PTA function when she was nine years old. She has been performing her interpretation of acoustic blues since the early 1990's, in venues including church fellowship halls, coffee houses, college campuses, bars, and chicken shacks. Most recently, she appeared at the Wayne Theatre Project's River City Radio Hour in Waynesboro. She has been called "a real blues woman [who's] got soul" and her singing "assertive, expressive and sensitive. . . the true blues…with a big booming, bluesy voice."
Dr. Stephen Levine is a historian who studies and teaches classes that focus on the evolution and cultural significance of blues music in the United States. As a guitarist, he is particularly interested in slide and finger picking styles that emerged in the 1920s and 1930s, including Piedmont and Mississippi Delta Blues.
The Hamner Theatre Cabaret Performance Series offers great entertainment in a dinner club setting with fine wine and food. Doors open at 6:30pm, and the show begins at 7:30pm. Tickets, which include food, are $20 or 2 for $35, in advance (reservations required). For information, phone 434 361 1999 or visit thehamnertheater.com. The Hamner Theater is a non-profit 501(c)(3) project of the Rockfish Valley Community Center in Nelson County.
download a flyer for a friend