Friday, August 3 at 2:00pm
The Earl Hamner Playwrights Conference
presents
A Shadow of Honor
by
Peter Coy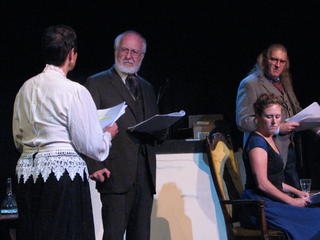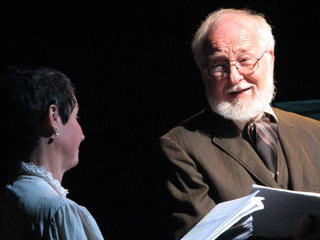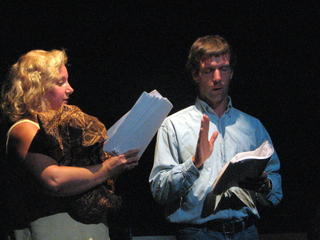 Directed by Boomie Pedersen
Dramaturg: Shana Gold
Production Stage Manager: Guinn Baker
Technical Director: J. Taylor
CAST:
Ruffin – Rick Hite
Caroline – Missel Leddington
Grace – Mollie Remilard
Strode – Bob Blumenstein
Tyler – Ryan Wender
Kathy – Rose Harper
Peter Coy, Co-Artistic Director, Hamner Theater, Nellysford VA
Peter Coy's 35-year career in the theatre includes work as a director, a producer, a playwright, and a stage manager. Since 1987 he has written several one-acts, two screenplays, and 25 full-length plays and adaptations. His play, A House In The Country, produced by Charter Theatre, won the 2000 Helen Hayes Award for the Outstanding New Play produced in Washington, DC. His most recent play, A Shadow of Honor, was commissioned by the Wintergreen Performing Arts Festival and sold out its entire run there.
The EARL HAMNER PLAYWRIGHTS CONFERENCE, now in its second year, is a three-week residential workshop for eight to ten playwrights. It is a venue for them to work on and experiment with new scripts in a company of experienced actors, directors, dramaturges & technicians, giving the playwrights time and space to work on their own visions. During the residency, the playwrights continually rewrite and experiment with their scripts. Staged Readings of each play are offered to the public on the final days of the conference; the Staged Readings are followed by a question and observation session.
Supported by the Virginia Commission for the Arts.
The Hamner Theater is a non-profit project of the Rockfish Valley Community Center.