June 2011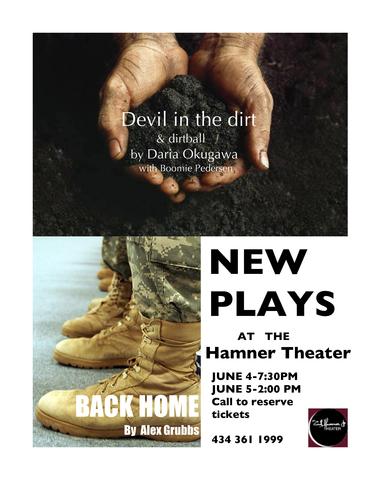 Back Home, written and performed by Alex Grubbs
Devil in the Dirt, written and performed by Daria Okugawa.
The brief entertainment, Dirtball, featuring Daria Okugawa & Boomie Pedersen, will round out the program.
Daria Okugawa and Alex Grubbs bring their thesis solo shows to the Hamner Theater for one weekend only.
Devil in the Dirt is an oral history of the Stokes family of Charlottesville, told through the eyes of one of its own. Gripping, hilarious and heartbreaking – come hear this incredible story.
Back Home What happens when our soldiers come back from war? This is the story of Adam Bowman and his triumphs and struggles on returning to civilian life after combat.
Both Back Home and Devil in the Dirt were developed as part of the requirement for the MFA at UVA; both pieces have gone on to have a life beyond school. We are delighted to offer the larger theater community the opportunity to see these two gifted performers doing their original work.
Admission by donation.