The Hamner Theater welcomes The Bobs
The 'only new wave a cappella group in history', The Bobs will present a Masterclass for aspiring a cappella singers.
Read Amy Bob's blog about The Bobs at the Hamner
Back by popular demand! Nationally-renowned a cappella singers, The Bobs, opened the Hamner Theater's music series, back in October, 2005. We are thrilled that they have chosen to return. They will bring their masterclass for aspiring a cappella singers to us on Thursday, April 19th at 7pm.
Call 434.361.1999 for reservations.
Suggested donation : Adults $10, Children $2.50-$5
The Bobs have just celebrated their 25th anniversary as 'Best of Breed'- follow this link for photos & a review (or to order their latest CD).
From The Bobs website :
Vocal pyrotechnics, adventurous musicality, amazing arrangements, unusual covers, and strangely compelling original songs combine to form the unique stew (Bouilla-bobs?) that is the Bobs.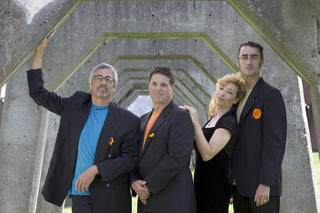 The band started 25 years ago in Berkeley, California and has gone on to release 13 albums, appear on the Emmy awards, tour with a dance company (which led to a PBS special and a video that was named to the Smithsonian Institution's permanent collection), write and perform cycles of songs about the weather, laundry, and pet turtles, serve as National Public Radio's musical commentators, and tour all over the U.S. and Europe.
Although the Bobs have always included cover songs in their concerts, their unique and warped originals (whose subjects include cats taking over the world, Cincinnati as an unlikely romantic weekend destination, the habit of naming body parts, spontaneous human combustion, and what it really means to adopt a highway — not to mention a song made up entirely of bumper stickers or a Bach cello composition recast as a debate between Bach and his second wife about the financial difficulties of feeding 20 small children) have long been audience favorites.
The Bobs have also recently debuted Rhapsody in Bob, a unique take on Gershwin's classic "Rhapsody in Blue" with guest pianist Bob Malone and the Bobs singing the orchestral part. This song is the centerpiece of their new album (also called Rhapsody in Bob) and their fine-arts show that has been touring the U.S. since premiering at Wolf Trap Center for the Performing Arts in 2005.