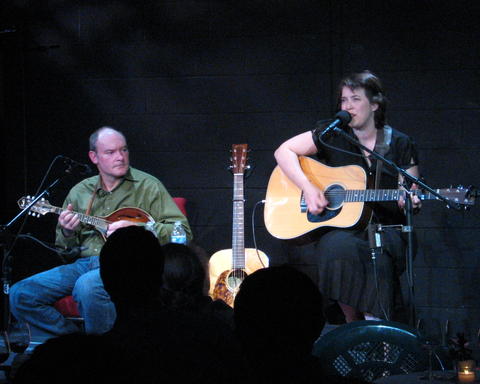 Music 7:30 pm, Doors/Bar open at 6:30 pm.
Tickets are $20, or 2 for $35, includes food (reservations required)
Please call 434-361-1999 for reservations.
Saturday, November 15, 2008
Jan Smith
folk and bluegrass-flavored acoustic tunes
"Jan Smith's deceptively simple tunes sparkle with freshness and originality," said Performing Songwriter magazine. The Louisville native writes roots music inspired by the classic country of her childhood, the singer/songwriter genre of her youth, and the bluegrass traditions of her current home in rural Virginia. Smith performs most often with husband Jeff Vogelgesang, a veteran mandolin and guitar player. Their duo performances are founded on Smith's songwriting, Vogelgesang's musicianship, and the couple's intimate harmony singing.