January 19, 2008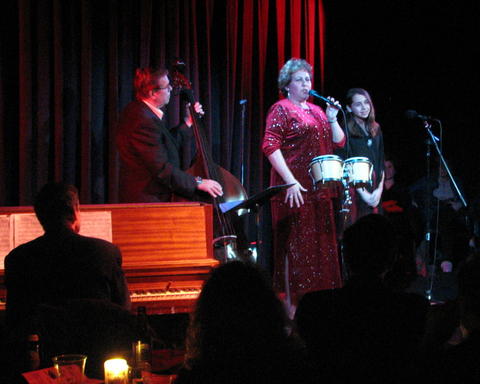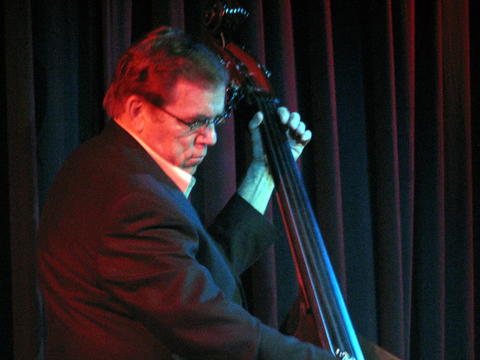 All cabaret shows begin at 7:30 pm, Doors open at 6:30 pm.
Tickets are $15, with food (by reservation only)
Please call 434-361-1999 for reservations.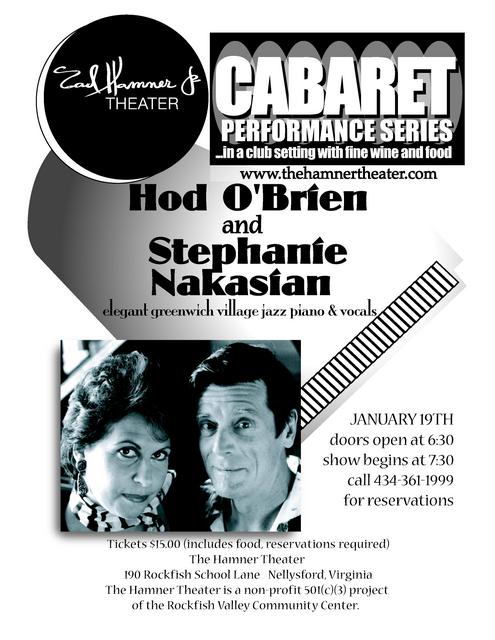 Stephanie Nakasian & Hod O'Brien
Elegant Greenwich Village jazz piano & vocals.
Click here to see the menu.
Stephanie Nakasian, 'the perfect jazz singer' (Swing Journal), got her start with Jon Hendricks & Company, and has been compared to both Ella Fitzgerald & Sarah Vaughan. She is known for her virtuosity ( "..broad range of material that showed her assurance on easygoing ballads, soft, Brazilian scat singing, and punchy pep songs." – John S. Wilson, The New York Times), but is especially recognized as a master of swing and scat.
Hod O'Brien was a part of the NYC bebop & swing scene in the 50s & 60s. As Nat Hentoff wrote in Modern Recording magazine, "…he was a vital part of the bop scene… but to most listeners, he's just a guy who makes you feel good on up tempo numbers and who can get inside your memories on ballads."
Together, Stephanie & Hod have toured all over the world, most recently Russia, Japan, Holland and the UK, winning awards, as well as appearing at major jazz festivals, and recording together for radio and on CD. They come to us fresh from a week of performing in California.
From Stephanie Nakasian's website:
"Vocal virtuosity…broad range of material that showed her assurance on easygoing ballads, soft, Brazilian scat singing, and punchy pep songs."
– John S. Wilson, The New York Times
"She has all the feel and charm of an early Ella Fitzgerald."
– Tempo, New Orleans, LA
"Swings and scats with authority"… "Evokes Ella and Sarah without sounding overly derivative"… "Sensuous"
Mike Joyce, The Washington Post
"…one of the important jazz singers in the world today."
New Biographical Encyclopedia of Jazz (Oxford Press)
From Hod O'Brien's website:
"A masterful bop-based improviser… his lines unfolding with an impressive blend of precision and propulsive swing."
– Don Heckman, Los Angeles Times
"The best bebop pianist this side of Barry Harris."
– Len Dobbin, The Montreal Mirror
"A most extraordinary distinguished musician… second generation of bebop pianomen… more elegant expression – his stroke is both stringent and sparkling… he creates intimacy"
– Boris Rabinowitsch, Politiken, Copenhagen, Denmark
"Unsung hero of Jazz… master of classic bebop piano"
– Scott Yanow, L.A. Scene