Life Insurance
written & performed by Joel Jones
Death. Birth. Sacrifice.
Office Supplies.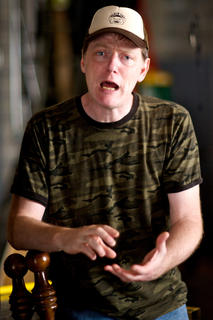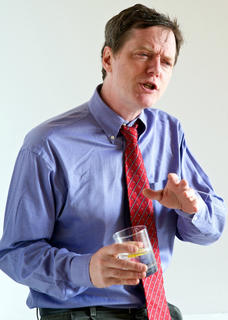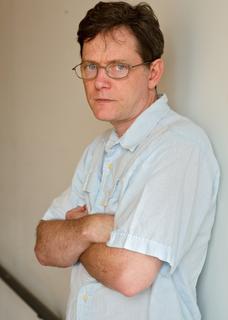 Photos courtesy Will Kerner, click for high-res image.
Press
Julia Katz, DC Theatre Scene:
"Joel Jones, however, walks the fine line of morbid comedy with delightful ease in his solo performance, Life Insurance."
"The script has some deep wisdom and could certainly elicit laughs, but its finest point was the detailed characters…His droll comic delivery was a hit, but don't let that undersell you on Jones's contemplative themes."
"For the one-man show lover, this is the piece for you…With Jones's certain formula, and his entertaining performance, he's sure to sell you on Life Insurance."
Ian Buckwalter, Fringe & Purge, Washington City Paper:
"This doesn't feel like a personal piece, as with so many one-person shows, but rather a beautifully structured and written short story, performed aloud. And one week into this year's Fringe, it's my favorite thing that I've seen so far."
"He has a great gift for naturally including unusual details that seem like throwaway character notes, but that then become vital parts of the story later on. He is effortlessly funny, with plenty of laugh-out-loud moments, yet draws the stories together to a somber and thoughtful conclusion."
Mariya Danilenko, MD Theatre Guide:
"This short, witty and smart drama draws out laughter every twenty seconds, while delving deeply into the minds and lives of these characters, who seem to have nothing in common. The play shows how different lives can connect simply by chance and circumstance; perhaps, this could be part of the beauty and charm in life. It's a tour de force!"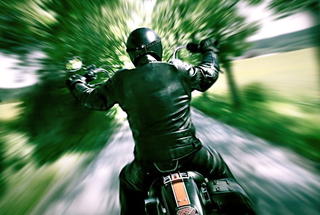 A volunteer firefighter believes a fatal motorcycle crash on a rural Virginia road guides his own destiny…a standardized test instructor explains why he didn't stop…a life insurance salesman has a moment of clarity in a run-down kitchen.
Three rapidly-shifting monologues weave together idiosyncratic viewpoints, stubborn passions, and unexpected revelations.
(Joel Jones, courtesy Emily Bryan)
(click images for high-res version)
In Life Insurance, Jones uses simple, subtle physical and vocal changes to portray three idiosyncratic characters. Each character casts a different light on the central, precipitating event: a fatal motorcycle crash on a rural Virginia road. The consequences are unpredictable, funny, and ultimately satisfying, as each character finds a way to move onward from a life stalled in its tracks.
"Jones builds layers with quirky little tonal changes" (Doug Nordfors, C-ville Weekly)
"honey-tongued, soulful, intellectually absorbing and hilarious" (C-ville Weekly)
"a unique blend of searing yet subtly cerebral social commentary and engaging silliness" (Grendel's Kitchen).
He "takes the fragile stuff that makes us human and mocks it mercilessly in sharp, funny and tightly-written sketches." (Magnet Theater)
Vote for Life Insurance at theatermania!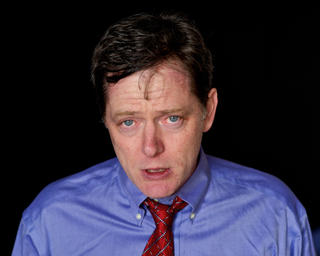 Two benefit previews at Vivace (2244 Ivy Rd., Charlottesville).
Sunday, July 10 at 8:00 & 9:30 p.m.
Admission by donation, proceeds towards Fringe expenses.
At the 2011 Capital Fringe Festival, July 7 – 24.

Tuesday, July 12 at 6:00 p.m.
Thursday, July 14 at 6:00 p.m.
Saturday, July 16 at 10:00 p.m.
Saturday, July 23 at 8:00 p.m.
Sunday, July 24 at 6:15 p.m.

Venue: Fort Fringe – The Bedroom,
612 L Street NW Washington DC, DC 20001
Map
Metro: Mt. Vernon Sq. 7th Street (Green/Yellow)
Bus: 70, 71, 79, 80, G8, P6, X2
Circulator: Convention Center / Waterfront; Georgetown / Union Station
Tickets $17, available from June 20th, online at CapitalFringe.org or by calling 866-811-4111
This production is presented as a part of the 2011 Capital Fringe Festival, a program of the Washington, DC non-profit Capital Fringe.
At the Fringe NYC, August 12 – 28.
Venue: Manhattan Theatre Source
177 MacDougal Street
New York, NY 10011
(bet. 8th St & Waverly Pl.)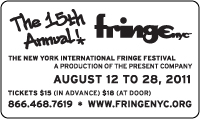 SAT 8/13 @ 9:45
SUN 8/14 @ 4:00
THUR 8/18 @ 6:15
FRI 8/19 @ 9:00
WED 8/24 @ 2:00
SAT 8/27 @ NOON
Tickets: $15 in advance (more than 24 hours)/ $18 at the door
Ticket info