Four Shows Only – Special Guest production,
Four County Players presents The Importance of Being Earnest by Oscar Wilde
From Four County Players:
Oscar Wilde's classic play follows Jack, a country bachelor who goes by the name Ernest when he pops into the city; and his friend Algernon, who seeks a thrill by becoming Ernest in the country. Jack proposes to Gwendolen Fairfax while Algernon, posing as Jack's wicked brother Ernest, falls in love with Jack's ward, Cecily.
Directed by John Holdren. Produced by Kerry Moran
Featuring (in alphabetical order):
Michael Durland as Chasuble, Sara Holdren as Gwendolen, Eamon Hyland as Algernon, Scott Keith as Jack, Josephine Stewart as Cecily, Ken Waller as Lane / Merriman, Linda Waller as Lady Bracknell and Linda Zuby as Miss Prism.
"Wilde's play and Holdren's deft directing will have main stage audiences shaking with laughter …"
"..plenty of jokes to spare, each one funny in about a dozen different ways and Holdren's command of timing evident in every one."
Something like trivial, something like brilliant, but closer to hilarious (Drew Jackson, Orange County Review, May 11. 2011)
Onstage May 26 – 29
Thursday, May 26 at 7:30 p.m.
Friday, May 27 at 7:30 p.m.
Saturday, May 28 at 7:30 p.m. SOLD OUT
Sunday, May 29 at 2:00 p.m. SOLD OUT
Admission $10,
Reservations advised, 434 361 1999.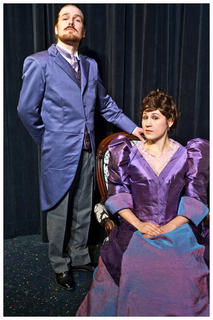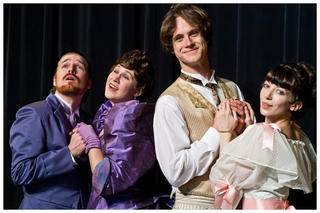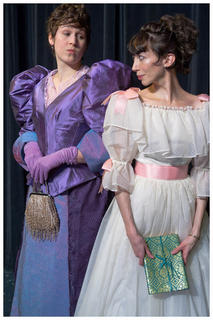 Courtesy Martyn Kyle/Pernmoot Photography