January 18 – 28, 2007
Written by A.R. Gurney
Directed by Peter Coy
Featuring Doug Schneider & Dinah Pehrson, Michael Volpendesta & Carol McAvoy, Chris Courtenay & Jim Johnston, Boomie Pedersen & Chris Baumer
Don't miss Love Letters – The C-ville Weekly's 'Pick of the Week'
If you missed this Pulitzer Prize-nominated play at the Paramount in December, you can catch it now at the Hamner. LOVE LETTERS, one of the most poignant romances of the twentieth century, is a bittersweet love story told through the nearly 50-year correspondence of its characters.
We have four casts, eight of the best actors available in central Virginia, each performing three times in two weeks. All performances held Tuesday-Saturday at 7:30 pm, with matinees Saturday & Sunday at 2:00 pm.
Tickets are $10. If you want to see more than one cast, you can buy a $20 pass that will allow you to see all four casts, or pay $5 to see any additional show. Please phone 434 361 1999 for reservations.
Stage Manager: Jeannine Regan
Set: J. Taylor
Lighting: Larry Hugo
Carpet courtesy of Mead Oriental Rugs On the Downtown Mall
Furniture by special arrangement with Bassett Furniture

Special thanks for supporting this production of Love Letters.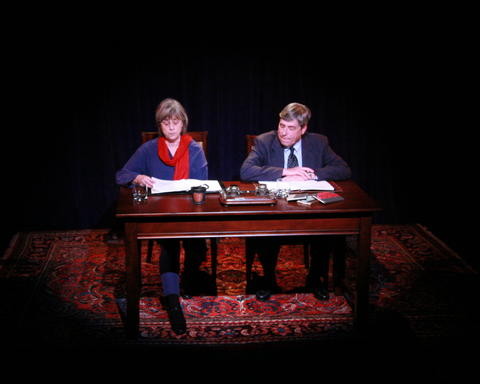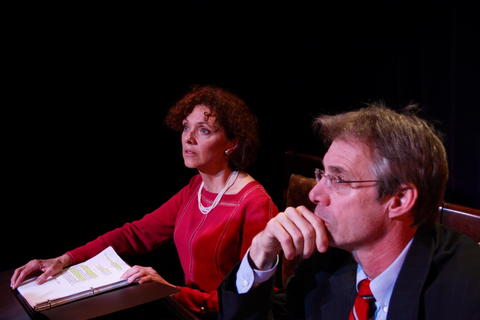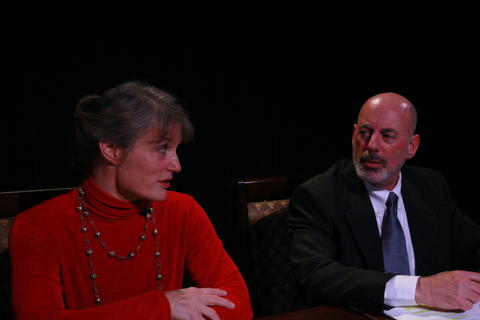 Director Peter Coy with Michael Volpendesta & Carol McAvoy

On Stage from Jan 18-28
Cast:
Tue. Jan. 16 Chris Courtenay & Jim Johnston * Preview – Pay what you will *
Wed. Jan. 17 Chris Baumer & Boomie Pedersen * Preview – Pay what you will *
Thu. Jan. 18 Carol McAvoy & Michael Volpendesta **Opening Night**
Fri. Jan. 19 Doug Schneider & Dinah Pehrson
Sat. Jan. 20 (2:00) Doug Schneider & Dinah Pehrson
Sat. Jan. 20 Chris Baumer & Boomie Pedersen
Sun. Jan. 21 (2:00) Doug Schneider & Dinah Pehrson ***Postponed***
Tue. Jan. 23 Chris Courtenay & Jim Johnston
Wed. Jan. 24 Chris Baumer & Boomie Pedersen
Thu. Jan. 25 Carol McAvoy & Michael Volpendesta
Fri. Jan. 26 Carol McAvoy & Michael Volpendesta **Last chance to catch their performance**
Sat. Jan. 27 (2:00) Chris Baumer & Boomie Pedersen **Last chance to catch their performance**
Sat. Jan. 27 Chris Courtenay & Jim Johnston
Sun. Jan. 28 (2:00) Chris Courtenay & Jim Johnston **Last chance to catch their performance**
Sun. Jan. 28 (6:00) Doug Schneider & Dinah Pehrson **Last chance to catch their performance**

Extra Show added – Sunday at 6pm