June 25 – July 12, 2009
by William Shakespeare
A Thieving Magpie Production
In the Press:
Nothing compares 2 Much Ado, by Brendan Fitzgerald,
C-ville Weekly, July 7, 2009
'Much Ado' is upbeat fun, by Clare Aukofer,
Daily Progress, June 30, 2009
Hamner Theater to perform 'Much Ado About Nothing', by Casey Gillis, The News & Advance, June 25, 2009
Scott Keith, David Straughn, Emily Duncan, Sara Holdren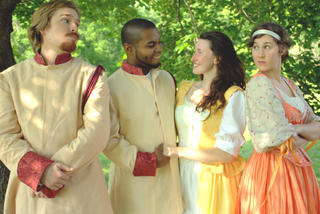 Stephanie Finn, Nick Heiderstadt, Emily Duncan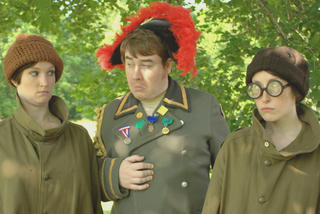 Scott Keith, Sara Holdren

Emily Duncan, Geoff Cullbertson, David Straughn

Scott Keith, Sara Holdren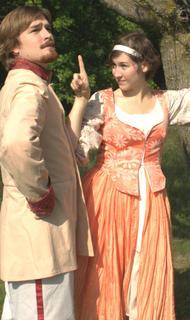 Scott Keith, Sara Holdren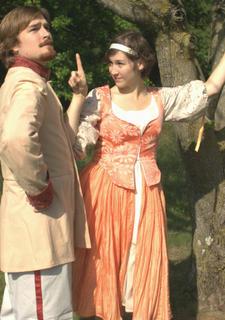 Love and laughter – deceptions and double-dealings – music and mischief – in one of Shakespeare's best-loved comedies, Beatrice and Benedick match wits while comic deceptions and dark schemes lead young lovers to make Much Ado About Nothing.
See below for details of Saturdays in the Vineyard.
New – Dinner Theater! For an additional charge of $10, boxed dinners are available for all shows if pre-ordered; call the Hamner Theater for details.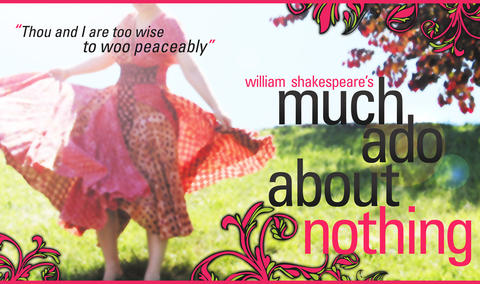 Directed by John Holdren, produced by Kerry Moran, and featuring (in alphabetical order), Chris Celella, Jon Cobb, Geoffrey Culbertson, Emily Duncan, Stephanie Finn, Nick Heiderstadt, Sara Holdren, Clinton Johnston, Scott Keith, Kerry Moran, David Straughn, Napoleon Tavale, and Robert Wray. Costumes are by Tricia Emlet.
Much Ado About Nothing will play Thursdays – Sundays, June 25 – July 12.
Tickets are $10, $5 for children under 10, at the door, or by reservation at 434-361-1999. Seating for all shows at the Hamner is limited, so please reserve early.
(Seating at the vineyard shows is first come, first served, no reservations. In the event of rain, the first 60 arrivals at the Theater will be seated.)
At the Hamner
In the air-conditioned Hamner Theater, Thursday and Friday shows begin at 7:30 p.m., with Sunday matinees at 2:00 p.m.
On Thurs. and Fri., the doors will open at 6:30pm for supper and the house will open at 7:00pm. Curtain is at 7:30pm.
On Sundays, doors will open at 1:00pm for lunch and the house will open at 1:30pm. Curtain is at 2:00pm.
A free preview show will be performed on Wednesday evening, June 24 at 7:30pm. Opening Night performance Thursday, June 25 will be followed by a champagne reception.
Saturdays at the Vineyard
On Saturdays, the show will be performed outdoors at Cardinal Point Vineyard (June 27, July 4) and at Mountain Cove Vineyards (July 11), starting at 7:00 p.m. Picnickers are welcome, with vineyard grounds open at 5:30; seating is first come, first served. (No outside alcoholic beverages allowed.) Bring blankets and lawn chairs. In case of rain, Saturday shows will be held in the Hamner Theater, starting at 7:30 p.m, with seats going to the first 60 comers.
'Five-dollar Fourth' – all tickets only $5 for the July 4 outdoor show at Cardinal Point Vineyard.
Unless otherwise noted, performances held in the Hamner Theater:
Wednesday, June 24 at 7:30pm – Free Preview
Thursday, June 25 at 7:30pm – Champagne Reception
Friday, June 26 at 7:30pm
Saturday, June 27 at 7:00pm at Cardinal Point Vineyard
(in case of rain, at the Hamner Theater at 7:30pm)
Sunday, June 28 at 2:00pm
Thursday, July 2 at 7:30pm
Friday, July 3 at 7:30pm
Saturday, July 4 at 7:00pm at Cardinal Point Vineyard, all tickets $5
(in case of rain, at the Hamner Theater at 7:30pm)
Sunday, July 5 at 2:00pm
Thursday, July 9 at 7:30pm
Friday, July 10 at 7:30pm
Saturday, July 11 at 7:00pm at Mountain Cove Vineyards
(in case of rain, at the Hamner Theater at 7:30pm)
Sunday, July 12 at 2:00pm