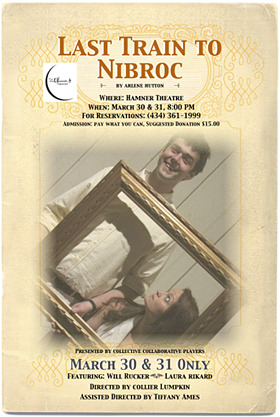 A play by by Arlene Hutton
Presented by The Collective Collaborative Players
Directed by Collier Lumpkin
Friday and Saturday
March 30 and 31, 2012
Show 8:00PM, Doors 7:30PM
Here's a thought. You can contribute to this group's Trip to Spoleto with Boston Marriage!
Set in the 1940s, Last Train to Nibroc joins May and Raleigh when they first meet on a cross-country train carrying the dead bodies of F. Scott Fitzgerald and Nathaniel West.  May is religious and bookish, and Raleigh, having just received a medical discharge from the military, is bound for New York City to begin life as a writer.  When two discover they are from neighboring Appalachian towns, they promise to meet again at the Nibroc Festival.  A charming story of dreams, love, and misunderstanding, Nibroc delivers a timeless message against the unmistakable backdrop of war, reputation, and small-town life. – Dramatists
Cast:
May – Laura Rikard
Raleigh – Will Rucker
Assistant director: Tiffany Ames
The Collective Collaborative Players was founded in 2010 by Laura Rikard, Beth Mevers and Will Rucker.  It is a theatre company that tells stories about, for, relevant to, or by women.  We also create artistically satisfying employment opportunities for professional theatre artists and offer young artists the opportunity to mature in their craft and to gain experience by collaborating with professional artists.  This year our production of David Mamet's Boston Marriage will travel to the Piccolo Spoleto Festival for the Arts in Charleston, South Carolina.