Written & directed by Peter Coy
Featuring Jon Cobb as Poe and jazz vocalist Patti Finn, as the women in his life, with pianist Bob Bennetta, and bassist Jim Ryan.
An intriguing glimpse into the tortured psyche of a brilliantly creative man and the women who inspired him.Come hear the poetry and stories of Edgar Allan Poe, the music of Johnny Mercer and others, and have a Bloody Elmira while you're at it!
The Hamner also took this production On the Road:
July 12 – 20, 2008 …AT THE DC FRINGE…
Feb 22 – 24, 2008 …AT LIVE ARTS…
Scenes from the play :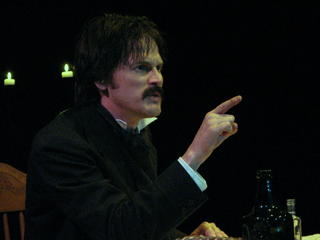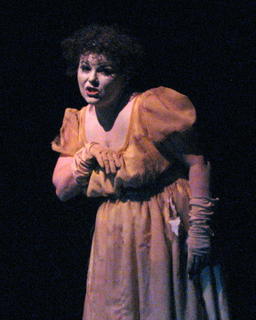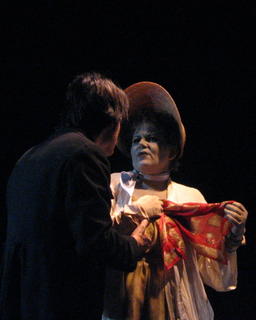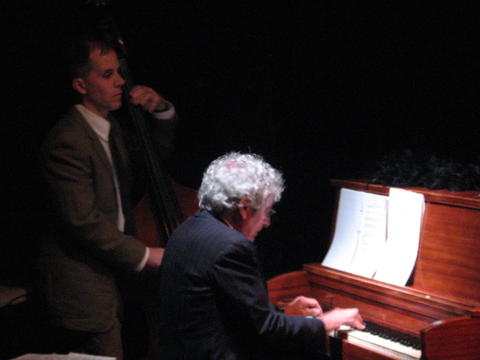 Performances will be held at
7:30pm Thu. – Sat., Oct. 25, 26, 27
2:00pm on Sun., Oct. 28
7:30pm Tue. – Fri., Oct. 30, 31, Nov. 1, 2
2:00pm on Sat. & Sun., Nov. 3 & 4
All tickets $10. For reservations call 434 361 1999.
Champagne Reception follows Opening Night performance.
Halloween Special – Come in costume for a free Halloween potion!
Who was Edgar Allan Poe and who was Lenore, the rare and radiant maiden about whom croaked the raven "you will clasp her nevermore"? Who could his Lenore have been? And who was Annabelle Lee, the child who danced with him in their kingdom by the sea?
What visions haunted Poe as he sat in the still of the night, his imagination raging? What music flooded his mind night and day, come rain or come shine? Find out in this funny and macabre musical trip through the wonder-filled flights of Poe's life with the women he loved and memorialized. And it's all true!
Patti Finn on Poe & All That Jazz:
Poe and All That Jazz is an original piece written by Peter Coy. It explores the story of Poe's tortured personal life and his connection with the many women of his real and artistic relationships. As there are only two characters, and actor Jon Cobb is Poe, I am…well, I guess I am "All that Jazz". Basically I am all the other characters, including the main figure of Eliza, his mother. whose deathbed "mom"-ories haunt Poe all his life, and who is the main hub around which the play turns. Oh, I also illustrate the action and drive the dramatic tension by breaking out into songs of Johnny Mercer (& others) –there is a jazz combo on stage–musicians Bob Bennetta and Jim Ryan at the piano and bass.
I know what you're thinking. A play about Edgar A. Poe… in a jazz club? Not exactly…well, not at all in fact.
Poe and All That Jazz is a post-modern pastiche, as powerful as a fever dream, or a simoom…(that is one of Poe's fave words–a great tropical wind)….and yet, the story itself is quite touching, too, in its humanity. There is so much more to him than madness.
Remarkably, virtually all the text is taken directly from Poe's life experiences, related correspondence, and of course, his writings, and, Peter's work to synthesize these sources is a singular achievement in itself. Working through " All that Jazz" as an actor, I am surprised by how clearly this play offers the potential for understanding what lies behind the 'misogyny' that is so often immediately associated with Poe's treatment of women characters. The outcome of this process is not at all what I expected.
This piece creates an access to the troubled subconscious mind that is psychologically truthful, associatively rich, humorous and horrifying, yet simultaneously, surprisingly delightful. I know that I never realized the breadth of Poe's influence on writers of prose, his legacy as a source of genre development, his great humor and of course, the thin veil which separated his life and his artistic works.
It is a remarkable play and a production that I am proud to be associated with. – Patti Finn
Patti Finn's Dress by