Romeo & Juliet: A Crime Scene Investigation,
A Deconstruction/Exploration of the Most Excellent and Lamentable Tragedy of William Shakespeare, an original work conceived & directed by THEATREWORKS Artistic Director, Patricia Finn Rapiejko.
THEATREWORKS Repertory Company presents a new play based on William Shakespeare's Romeo and Juliet.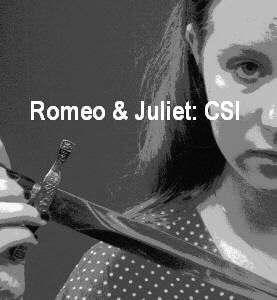 Although Romeo & Juliet : A CSI is based on William Shakespeare's beloved text of passionate discovery and young love, romance is not the primary focus. This reorientation of the text follows the format of a crime scene investigation, beginning at the tomb at the end of Act V. Here, the Royal collects testimony from the survivors to illuminate the details of the final days and to explore the question, "What led these young people to choose suicide?" The audience is also questioned, "Would you recognize the signs of depression and suicide ideation (thinking about it) in a son, a daughter, or a friend?" The concept of this original play is not to rewrite or abandon Shakespeare, but to find in his words a microcosm of modern life.
Ms. Finn assessed the actions of the main characters, both the survivors and the dead, using the methods of modern-day physicians and therapists to diagnose depression and mental illness. She stresses that it is critical that behavior be considered throughout the play, not just at the terminal decision to end their lives. Shakespeare's descriptions of depression are uncannily similar to modern diagnostic criteria. "It is remarkable to me that Shakespeare's description of the state of depression and suicide ideation is so accurate by modern standards." she states, "Shakespeare, as it turns out, could have been the first mental health professional!"
THEATREWORKS Repertory Company is dedicated to the creation & performance of original productions exploring great literature. The Company's work gives classic text a context, and a voice to influence behavior and engage in public dialog on issues of contemporary relevance. Romeo & Juliet : A CSI explores elements of teen depression and suicide in Shakespeare's text, focusing on issues of personal responsibility, family & support system breakdown as factors in teen depression and suicide.
This group of young people tap into their lives of intense personal challenges, yielding a soulful expression that is rarely seen in young actors of any level of training & background. Company members include Zane Philips, (16), as The Friar, David Stewart, (19) as Romeo, Anna Boynton (14) as Juliet, the Voice of Innocence, Gentry Burnett (17) as Juliet, the Voice of Experience, Shelbie Filson (Babcock Season & Box Office Manager, Sweet Briar College), as The Nurse and Royal Shiree Jones (Fellow of the Virginia Center for the Creative Arts & Education Facilitator at the Avoca Museum) as Royal.
THEATREWORKS, a theater studio based in Lynchburg, provides training in creative expression and performance arts, designed for emerging actors, dancers & musicians as well as for non-performers. Its classes & workshops explore elements of dramatic arts training from classic, modern and avant-garde schools to build self-confidence and creative problem-solving skills in a team environment. THEATREWORKS is especially proud of its work in Lynchburg area schools, offering in-school theater & creative writing workshops tailored to specific needs for students of all ages (grades K-12), including special needs, at-risk & gifted enrichment programs. Students engage in theater games, sensory exploration and pantomime, often producing original scripted material and culminating in public performance.
Romeo & Juliet : A CSI previewed at Lynchburg's Renaissance Theatre in June. Performances in community centers for kids-at-risk are planned throughout this summer, sponsored by the Crisis Line, Suicide Prevention Coalition and Central Health. The show will premiere at the Warehouse Theatre Mainstage for the Capital Fringe Festival in DC in July.
The Hamner Theater will present 3 performances of Romeo & Juliet : A CSI, on Friday, July 6th and Saturday, July 7th at 7:30 pm and Sunday, July 8 at 2pm. Tickets for all performances will be pay-what-you-can, with a suggested donation of $7. All proceeds will be used to fund THEATREWORKS Repertory Company's upcoming performance at the Capital Fringe Festival in Washington, DC in July. Phone 434 361 1999 for reservations.