by Richard Washer
April 1 – April 10, 2009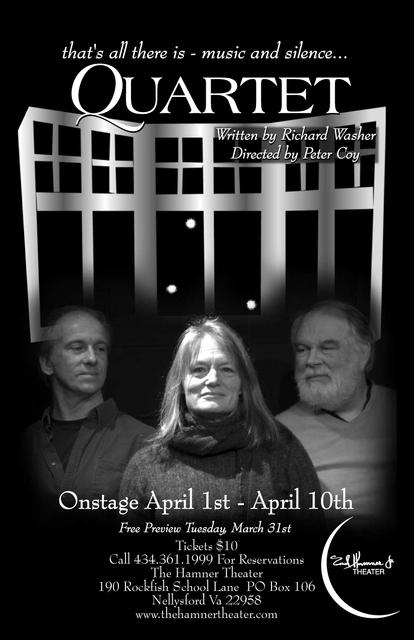 Written by Richard Washer
Directed by Peter Coy
Featuring Jon Cobb, Jim Johnston, Kevin O'Donnell, Dinah Pehrson & Bill Williamson
This lyrical new play by DC playwright Richard Washer portrays a reunion haunted by hints of unrequited love, as former members of a string quartet recall long-ago events, seen from each person's viewpoint in turn.
'that's all there is – music and silence.'
Tickets $10
Free Preview Tuesday, March 31.
Champagne Reception will follow Opening Night performance, Wednesday, April 1.
Talkbacks with Playwright Richard Washer & cast & crew will follow both Friday performances.
Performances held:
Tuesday, March 31 at 7:30pm (Free Preview)
Wednesday, April 1 at 7:30pm Opening Night Reception
Thursday, April 2 at 7:30pm
Friday, April 3 at 7:30pm
Saturday, April 4 at 7:30pm
Sunday, April 5 at 7:30pm
Wednesday, April 8 at 7:30pm
Thursday, April 9 at 7:30pm
Friday, April 10 at 7:30pm
Quartet was developed at the first Earl Hamner Playwrights Conference, held at the Hamner Theater in 2006. Last August, Quartet was included in the Kennedy Center's 7th annual Page-to-Stage annual showcase for new plays. Says playwright Washer, "The premise of the play, a reunion with a childhood friend, was based on an experience visiting a friend who lives in Nova Scotia. The music aspect was all made up." He continues, "There are many things in life we would like to know that we can never know, so many things we would like to say but we can't find the words or courage to say them."
Playwright, dramaturg, educator and director Richard Washer is a founding member of Washington, D.C.'s Charter Theatre, where he is company dramaturge. His plays have been produced in various venues in the D.C. area over the last twenty years, including New Works Theatre, Charter Theatre and the National Conservatory of Dramatic Arts. He currently offers creative playwriting workshops at The Writer's Center in Bethesda, Maryland. He holds a BA in Music and Anthropology from the University of Virginia, and a MFA in Creative Writing from The American University.
The cast of Quartet features Jon Cobb, Jim Johnston, Kevin O'Donnell, Dinah Pehrson and Bill Williamson. Most cast members are making a return visit to the Hamner stage. Jon Cobb (Charles) is also known to Hamner Theater regulars as Poe, in Peter Coy's Poe & All That Jazz, Jim Johnston (Dieter), was previously seen in A Shadow of Honor, The Homecoming, Uncle Vanya and You Know I Can't Hear You When the Water's Running, Dinah Pehrson (Nelly), was also in the Hamner's production of Love Letters (appearing with Doug Schneider), and Bill Williamson (Tubey) was most recently in A House in the Country. Kevin O'Donnell plays Hans, in his first appearance at the Hamner. Quartet is directed by Hamner Theater Co-Artistic Director, Peter Coy, and dramaturged by Hamner Theater Co-Artistic Director, Boomie Pedersen.
AprilattheHamner.pdf (70.21 KB)
quartet.pdf (77.29 KB)