by William Shakespeare
Nelson County Shakespeare Festival,
in conjunction with the Hamner Theater
All remaining performances are SOLD OUT
This is a dream like no other…
Set in Athens High School, meet the young lovers, the lunch ladies, the custodial staff and the IT guy and watch everything fall apart when the fairies get involved…fun for everybody!
Admission $10, $5 Seniors & under-10, $25 Family pass (Two adults, 2 or more children).
Reservations advised, 434 361 1999.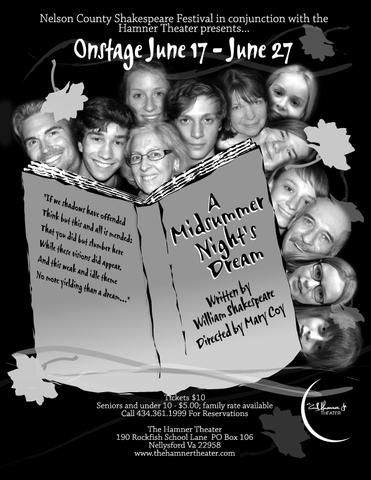 Cast features (alphabetically):
Richard Averitt, Savannah Averitt, Colin Bruguiere, DJ Crocker, Sami Cunningham, Dan Dennis, Alice Ferrall, Louise Ferrall, Phyllis Reed (Gardner), Alan Hickerson, John Holdren, Olivia Marshall, Kerry Moran, Brian O'Connor, Noel Quigley, Luisa Schneider, Megan Schultz, Betty Tabony, Puja Tolton, Dan Trombley, April Winsheimer, Kaya Winsheimer, Alexey Zielinski
A Midsummer Night's Dream will preview June 16 and open June 17, closing June 27th. Performances held Wednesday – Saturday, June 17, 18, 19, 23, 24, 25 & 26 at 7:30 p.m., and Sunday, June 20 & 27 at 2:00 p.m.
Wednesday, June 16 at 7:30 p.m. Free Preview
Thursday, June 17 at 7:30 p.m. Opening Night SOLD OUT
Friday, June 18 at 7:30 p.m.
Saturday, June 18 at 7:30 p.m.
Sunday, June 19 at 2:00 p.m.
Wednesday, June 23 at 7:30p.m. Pay-What-You-Will
Thursday, June 24 at 7:30p.m. SOLD OUT
Friday, June 25 at 7:30p.m. SOLD OUT
Saturday, June 26 at 7:30p.m. SOLD OUT
Sunday, June 27 at 2:00 p.m. Final Performance SOLD OUT
About Nelson County Shakespeare Festival: Nelson County Shakespeare Festival rehearses and performs Shakespeare's plays by drawing from Elizabethan staging practices in an ongoing exploration of how to make modern productions happen more efficiently and with more actor input. Actors are an empowered entity in the staging and costuming and organization of the production. A manager or director acts on behalf of the playwright and a prompter is present at rehearsals to oversee entrances and exits and maintain a structure to the rehearsal as well as to feed in the lines. The Hamner acts as our Henslowe, providing a space to play and other support. Any volunteers to be our patrons – a Queen Elizabeth or a Lord Chamberlain? Please contact the Hamner!