The Hamner Theater & URT present
Written by Joe Calarco
Directed by Brin Lukens and Jonathan Green.
Featuring Scottie Caldwell, Julia Debo, Matt Fletcher, Matt Marcus, Mindy Miller, Caroline Ryon, Greg Steinbrecher, and Nathaniel Whelden.
Performances held Tuesday-Saturday at 7:30 pm,
Saturday & Sunday at 2:00 pm.
All Tickets $10, Tickets for both casts $15
Please call 434-361-1999 for reservations.
Wednesday, May 2 Opening Night for Guys – Champagne Reception
Thursday, May 3 Opening Night for Gals – Champagne Reception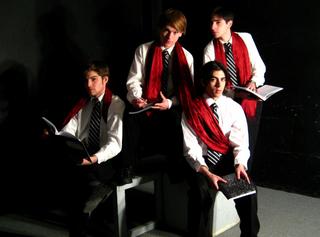 Cast Schedule:
Wed, May 2, 7:30pm GUYS
Thu, May 3, 7:30pm GALS
Fri, May 4, 7:30pm GUYS
Sat, May 5, 2:00pm GALS
Sat, May 5, 7:30pm GUYS
Sun, May 6, 2:00pm GALS
Tue, May 8, 7:30pm GUYS
Wed, May 9, 7:30pm GALS
Thu, May 10,7:30pm GUYS
Fri, May 11,7:30pm GALS
Sat, May 12,2:00pm GUYS
Sat, May 12,7:30pm GALS
Here is an excerpt from a review (of the London '03 production) by Neil Ludwick on culturevulture – http://www.culturevulture.net/Theater/ShakespearesRJ.htm
Mr Calarco's presentation of Shakespeare's play centers on the power of literature over the imagination of the individual. Moreover, he focuses on the profoundly liberating effect which drama can have on the adolescent psyche and how the framework of a dramatic fiction can provide a playground in which the adolescent can experiment with adulthood safely. In doing so, he also confirms Shakespeare's play, in all its raw intensity, as the ultimate tragedy of adolescence.
And from URT:
URT brings to The Hamner Theater a classical experiment in gender politics with Joe Calarco's internationally acclaimed Shakespeare's R&J. This production will replace the formerly scheduled The Fantasticks – another great love story! Four young students (all male or all female, depending on the performance) discover a copy of Romeo and Juliet and begin reading the story aloud. School and social rules are addressed and shattered as the students come to understand the real price of challenging fate and the true dangers of forbidden love. Directors Jonathan Green and Brin Lukens have double-cast this production, simultaneously rehearsing an all-male and an all-female cast. Casts will switch off performances, providing spectators a chance for fascinating perspective into Shakespeare's timeless text.
R&J premiered off-Broadway in 1998 to rave reviews, and subsequently won the Lucille Lortel Award for Outstanding Special Achievement in Theatre. The Wall Street Journal calls the play "a gem, the most inventive re-imagining of a classic in years." R&J has had very successful recent productions in London's West End and Tokyo. It was a Helen Hayes new play award nominee when it premiered in Washington, DC.
Shakespeare's R&J, presented by URT at The Hamner Theater will run from May 2 – 12 with alternating casts. Tickets are on sale now, $10, and $15 for both casts. For more information, call the Hamner Theater at 434.361.1999. Performances depict mild sexual situations, and are not intended for young children.