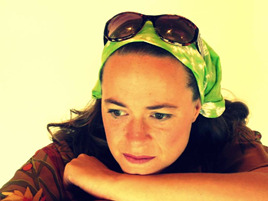 A play by Mike Kindle
Performed by Kate Adamson
Directed by Boomie Pedersen
March 1, 2013
October 25, 26 and 27, 2012
The Bridge PAI
Charlottesville
Thursday, November 15, 2012
Wayne Theater's Gateway Space
329 West Main Street, Waynesboro
This new play by former Charlottesville resident Mike Kindle tells the unlikely story of Barack Obama's mother.
Stanley Ann Dunham, an idealistic college student, impulsively marries first a Kenyan and then an Indonesian, soon finding herself the housewife of a minor official in a corrupt Third-World government. She manages to raise two children while going on to become a respected anthropologist and one of the developers of microfinance—small loans given to villager entrepreneurs, especially women entrepreneurs, in developing countries.
Performed by Kate Adamson, directed by Boomie Pedersen, and produced by Jen Hoffman for the Hamner Theater, Stanley Ann is 70-minute one-woman show that moves rapidly through time and space from Hawaii to Seattle to Indonesia to New York. The script draws from Obama's autobiographical Dreams of My Father, supplemented by other sources, to take an unsparing view both of the Third World and our own, and show how hope and hard work fare in the harsh cauldron of culture and history.
Whether you like Obama as president or not, this play will make you think, feel, and wonder. (Unless you think Obama was born in Kenya in which case this play's probably not for you. We can't please everyone!)