Click here for scheduling information for The Homecoming.
Photos available for download (click for high-res image) or send a request to admin at hamnertheater.com.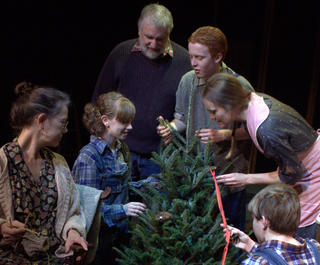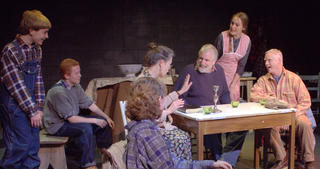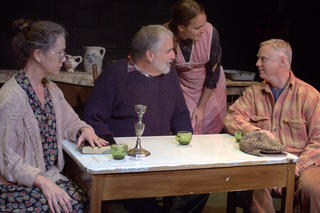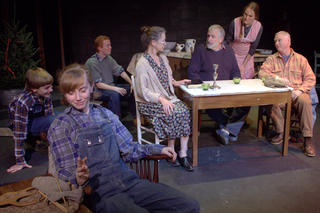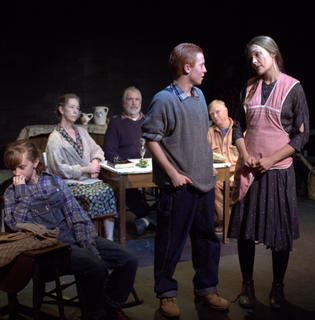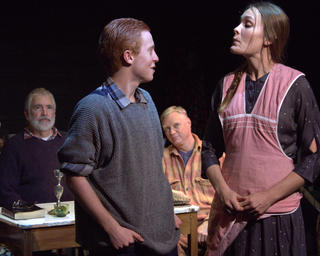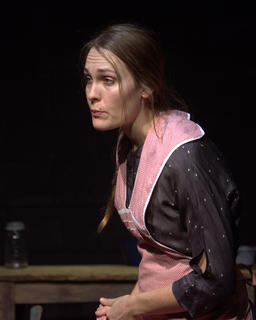 photos courtesy N Mulrine
The Homecoming returns to the Hamner!
The beloved family Christmas story, The Homecoming, by Earl Hamner, is coming to the Hamner Theater for 17 performances, beginning Thursday, Dec. 1, closing Sunday, Dec. 18th, with 2 free previews on Tue & Wed., Nov 29 & 30th.
In 1971, CBS aired a TV pilot called The Homecoming: a Christmas Story. This show became The Waltons, the TV series that made Earl Hamner Jr. the most "powerful man in television" from 1972 – 1978. The Hamner Theater's Homecoming is an original adaptation of Hamner's novella, which playwright (and Hamner Theater co-Artistic Director) Peter Coy tailors to fit the cast as needed.
The Homecoming is the heart-warming story of a family waiting for the magic of Christmas Eve to arrive, told from the perspective of the adult Clay-Boy. We join Clay-Boy as he searches for his father and encounters some colorful characters that expand his growing understanding of the world.
Says writer Earl Hamner of The Homecoming, "It is remembered in my family that on Christmas Eve of 1933 my father was late arriving home. That, along with the love he and my mother bestowed upon their eight red-headed offspring, is fact. The rest is fiction."
The Homecoming is about family, and director Boomie Pedersen casts families whenever possible. This year there are more than ever before: there are 21 speaking parts, many of which are doubled, resulting in a total cast of 32. Casts are grouped by hair this year – the Straight hair cast, and the Curly Hair cast.
In their Hamner debuts, Nelson County Superintendent of Schools Roger Collins shares the part of father Clay Spencer, and Barbara Page, who remembers teaching in the theater when it was a school, takes on the part of Miriam Dooly, Hawthorne Dooly's widow. (Barbara is also the author of "Annie's Ride to Grandma's" which tells the story of a little girl's journey to her grandmother's house in Piney River.)
The casts also include Richard Averitt as Adult Clay Boy, and his children Savannah and Quinn as Pattie Cake and Mark. Savannah shares her role with her cousin Ella Manthey, and another cousin, Maddie Bridge, is John.
Alexey Zielinski is Clay Boy and his brother Sasha is the sound man.
April Winsheimer is Olivia and her daughter Kaya is Amanda, the City Lady's daughter.
David Ferrall appears as Ep Bridges and his daughters Louise and Alice are Becky and Luke respectively.
David Stewart, who appears regularly with the Hamner Improv Troupe, HIT, shares the roles of Charlie Snead and Clay Spencer, and his son Cameron, also a HIT regular, is Matt.
David Key, who has been seen at Play On! Theatre in Charlottesville, makes his Hamner debut, sharing the roles of Ep Bridges and Charlie Snead.
Brothers Will and Henry Yagel play brothers Luke and John while Herbert Wender returns this year as Mark, having played Luke in the last production.
Robin Luecke also makes her Hamner debut as the City Lady, sharing the role with Linda Crowe; Robin's son Jack Luecke takes on the role of Birdshot.
Dakota Crocker, last seen as Mark, is Birdshot and his sister Willow appears as Shirley.
Jacquie Burke is the other Shirley; her father Thomas Burke shares Adult Clay Boy and her mother Pam Burke is Emma Staples.
Rounding out the cast are Jo Rozycki as Becky; Mary Coy and Carol McAvoy, sharing the role of Etta Staples; Rick Steeves returns as Grandpa Homer, Cindy LaChance, also a HIT favorite, takes on Grandma Ida.
The casts will alternate performances, opening Thurs., Dec. 1 with the Curly Hair cast and Fri., Dec. 2 with the Straight Hair cast. There will be a reception after each of the openings with cider and cookies, or champagne for those over 21.
There will be two free previews, Tues., Nov. 29 for the Curly Hairs and Weds., Nov. 30 for the Straight Hairs. And there will be two pay-what-you-will performances on the second and third Thursdays, one for each cast.
Performances will take place Thu. – Sat. at 7:30 p.m. and Saturdays & Sundays at 2:00 p.m. Admission is $15, $10 for 10 & under. Reservations are suggested, phone (434)361-1999. Visit www.thehamnertheater.com for more information.
About the Hamner Theater: The Hamner Theater, now presenting its seventh season, is a project of the Rockfish Valley Community Center in Nelson County, a 501c3 non-profit organization, and receives funding from the Virginia Commission for the Arts, private foundations and individual donors to support its mission of bringing professional theater to Nelson County. Please call the Box Office at 434-361-1999 to purchase tickets. Learn more at thehamnertheater.com.
# # #
Summary:
What: The Homecoming, by Earl Hamner
Where: Hamner Theater, at the Rockfish Valley Community Center, 190 Rockfish School Lane Nellysford, VA between Afton and Nellysford, VA
When: Thursday – Sunday, Dec. 1 – 18, 2011
Times: Thursday, Friday & Saturday at 7:30PM and Saturday & Sunday matinees at 2:00PM, Doors 30 minutes earlier.
Admission: $15, $10 for 10 & under
Special shows: Free Previews, Wed., Nov 29 & Thu., Nov. 30 at 7:30PM,
Champagne/Cider Reception follows opening nights, Thurs., Dec. 1 & Friday, Dec. 2.
Pay-what-you-will, Thursdays, Dec. 8 & 15.
Information/Reservations (advised): 434 361 1999
Information: https://thehamnertheater.com/
Directions: 434-361-1999 or thehamnertheater.com
The Hamner Theater is located in the Rockfish Valley Community Center on Route 151, between Nellysford & Afton, 22920, in Nelson County, VA.
Post: Hamner Theater, P.O. Box 106, Nellysford, VA 22958
Phone: (434) 361 1999
E-mail: info@thehamnertheater.com
Web: thehamnertheater.com
CAST BREAKDOWN:
Olivia Spencer – April Winsheimer
Clay Boy Spencer – Alexey Zielinski
Grandpa Homer – Rick Steeves
Grandma Ida – Cindy LaChance
Kaya Winsheimer – Amanda Camp (City Lady's daughter)
Emma Staples – Pam Burke
Etta Staples – Mary Coy, Carol McAvoy
Miriam Dooly – Barbara Page
Clay Spencer – David Stewart, Roger Collins
(Curly Hairs, Straight Hairs)
Adult Clay Boy – Thomas Burke, Richard Averitt
Becky – Jo Rozycki, Louise Ferrall
Matt – Cameron Stewart, Cameron Stewart
Shirley – Jackie Burke, Willow Crocker
Mark – Herbert Wender, Quinn Averitt
Luke – Will Yagel, Alice Ferrall
John – Henry Yagel, Maddie Bridge
Pattie Cake – Ella Manthey, Savannah Averitt
Charlie Snead – David Stewart, David Key
Ep Bridges – David Key, David Ferrall
Birdshot – Jack Luecke, Dakota Crocker
City Lady – Robin Luecke, Linda Crowe