Nov. 29 – Dec. 10, 2006
Written by Earl Hamner, Jr.
Adapted by Peter Coy
Directed by Boomie Pedersen
This is our second annual production of Earl Hamner, Jr.'s classic tale of Christmas in Nelson County, newly revised for 2006. It's Christmas Eve in 1933 and Daddy's not home yet; has there been an accident? Or is he out with the Staples sisters? This 20-character play is the heart-warming story of a family waiting for the magic of Christmas Eve to arrive – not Santa, but Daddy – told from the perspective of the adult Clay-Boy as he remembers the journey he took, that snowy evening long ago…
Nov. 29 – Dec. 10, 2006
Wednesday – Saturday at 7:30pm, Sundays at 2:00pm.
Tickets are $10, $5 for 12 & under. Call 434-361-1999 for more information & to reserve your seats. Don't be disappointed – book early for this local favorite!
More photos added here – Jan'07
From Hamner Theater sponsor WMRA's Civic Soapbox : Listener Essays (Dec. 2006):
Mariflo Stephens : Back with the Waltons, Again (Follow the link to listen to writer & actress Mariflo Stevens (Emma Staples) read her essay on acting in The Homecoming.)
From the News Leader,Nov 23, 2006
Earl Hamner's novel being brought to life on Afton stage
By Ruth Jones/staff
'The Homecoming' to be performed at the Hamner Theater
On Christmas Eve in 1933, the Spencer family members eagerly awaited the arrival of their father.
Olivia (Jacquie Harvey) & Grandma Ida (Chris Courtenay)
Follow the link to listen to an interview with Earl Hamner about The Homecoming, his mother and more: Interview by WMRA's David Molpus for NPR (Dec, 2005)
See reaction to The Homecoming, 2005
Peter Coy's adaptation of The Homecoming is also on stage in Oregon at the Albany Civic Theater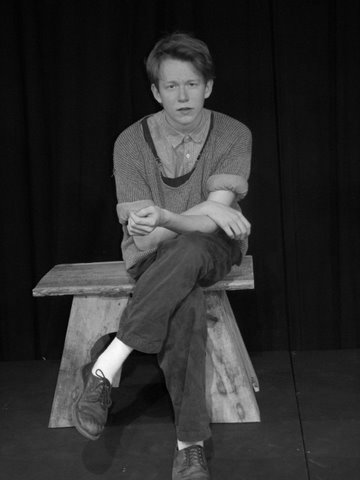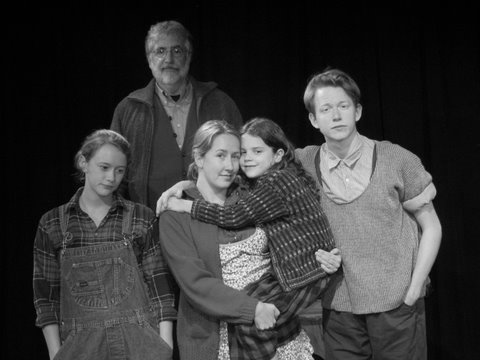 Rick Steeves & Phoebe Shaw: