VPSI Staged Reading: Saturday, April 17, 2010
by Peter Gunter
Saturday, April 17 at 7:00 p.m.
Staged Reading of Red, White, Blue – and Black by Peter Gunter
Free and open to the public.
Come for a snack and a chat, and then stay after to give the playwright the feedback he needs to get his play where he wants it to be.
Co-directed/dramaturged by Carol Pedersen and Boomie Pedersen
Cast:
Richard Cooper
Carrie Stuart
Rebecca Hudnall
Chris Courtenay
Jim Johnston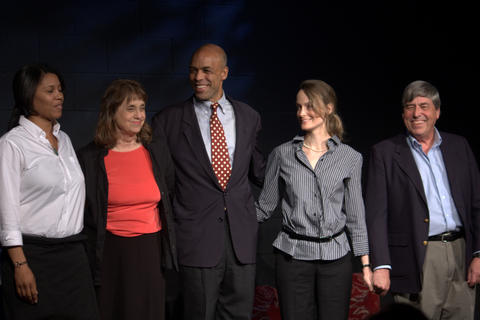 Cynthia, a white Republican lobbyist is helping her African American fiancé, David, run for Congress as a Republican. Their relationship — both political and personal — is jeopardized when the influential conservative she invites to her old Virginia home turns out to have written a notorious book on race and intelligence. The battle lines are drawn when the party is crashed by Cynthia's ultra-liberal mother and David's African American ex-girlfriend who is catering the party and wants him back — as a Democrat.
About the playwright: Peter Gunter is the author of numerous plays and screenplays. Most recently, his plays have appeared in the Samuel French Off-Broadway one-act play festival, and at the Argonaut Playwrights Series in New York City. Last summer, his play, The Garden, was produced in the upstage theatre at Live Arts under the direction of Ray Nedzel. He is a current member of the Live Arts Playwrights Lab, and is a past member of NYC Playwrights and the BMI Musical Theatre Workshop. He is a two-time winner of the John Golden Playwriting Award.
(right) Playwright Peter Gunter at the Actor Reading of his play Red, White, Blue – and Black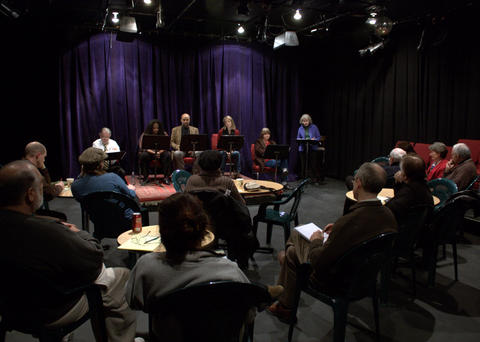 Stage 2 of VPSI: Actor Reading of Red, White, Blue – and Black, held Feb. 5, 2009