Meets most Mondays. Call to verify!
We now meet at Crozet Arts in the old Crozet School, as of October 2012!
Never been on stage before?
Been on stage more times than you'd care to mention but looking to recharge your acting batteries?
Improv at the Hamner is for you.
This mixed group of old hands and neophytes is meeting every Monday to learn and practice the basics – saying "yes, and"; making each other look good; and speaking spontaneously. Playing games and creating scenes incorporating the basics prepare the entire company for regular performances at the Hamner.
This program is free of charge and is intended for everyone with an interest in Improv.
Call 434-361-1999 for additional information, or just come see what it's all about.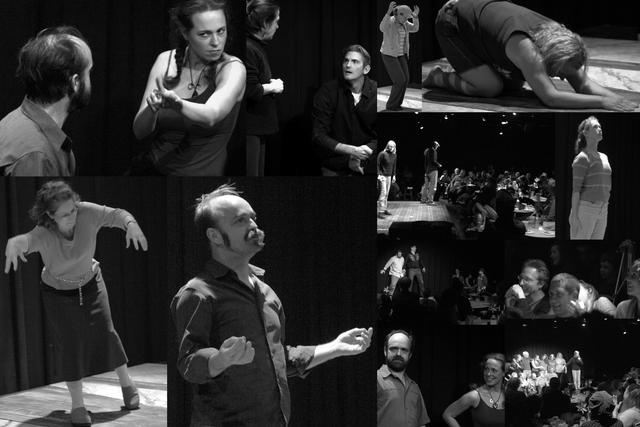 Past Performances of the Hamner Improv Troupe:
Saturday, July 9, 2011 Improv with HIT & Bent Theatre
Saturday, June 14, 2011 An Odyssey with HIT, on the set of Ocean View Odyssey
Wednesday, January 5, 2011 Improv with HIT – Fellini's
Friday, Dec. 31, 2010 Geezer New Years
Friday, December 10, 2010 Improv with HIT, following The Gift of the Magi
Saturday, October 16, 2010 Improv with HIT, following Imaginary Letters, Mozart Remembered
Saturday, June 12, 2010 A Night Out, with Bent Theatre
Thursday, Dec. 31, 2009 Geezer New Years
Friday, Dec. 11, 2009 Improv with HIT, on the set of The Homecoming
Friday, October 16, 2009 Improv with HIT, on the set of Glengarry Glen Ross
Saturday, May 23, 2009 A Night Out #3 – Improv with hit & HIT, MC Ryan Wender
Saturday, April 25, 2009 A Night Out #2 – Hamner Improv Challenge
Saturday, March 7, 2009 A Night Out – Improv with hit & HIT
January 17, 2009 HIT and hit, In the Cabaret (Photos)