Can't w8 to sk8 by Chris Graham, in the Augusta Free Press
On Saturday, August 23rd, the Hamner Theater will hold a benefit for Skate Nelson, a project of the Rockfish Valley Community Center. Skate Nelson is a non-profit group of skateboarders, friends, and concerned citizens uniting to create a first-rate community skatepark.
Featuring PID GEON BABYLON, the skate video by Black Cat Argyle Team, and performances by T-G'sus (tha street savior, promising a family-friendly performance), Andy Waldeck (Earth to Andy) & Jenn Rhubright, (Jive Katze, Dirty Dishes & Clare Quilty), Jamie Dyer, (Hogwaller Ramblers), and Healing Carnival Dojo Jugglers. There will also be a raffle & a silent auction…all tied together by Master of Ceremonies, Richard Averitt!
Food is included in the ticket donation ($10-20 suggested, $5 students). Reservations suggested: 434-361-1999
Doors 6:30pm, Show 7:30pm
Give a flyer to a friend!
Community Sk8 flyer (Right click & save-link-as to download a pdf.)
The Hamner Theater & SkateNelson are also grateful to Freestyle & Black Cat for their generous support. Thanks!
Read about Nelson skaters in the Nelson County Times: Nelson skaters seek place to board, by Aaron Lee, July 16, 2008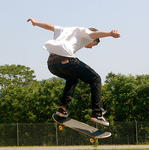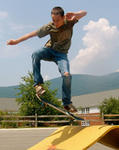 Skate Photos courtesy T. Gorman