Saturday, March 24, 2007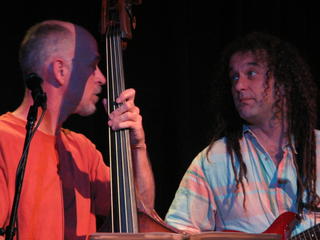 All cabaret shows begin at 7:30 pm, Doors open at 6:30 pm.
Tickets are $15, with food
Please call 434-361-1999 for reservations.
With their heads in the Caribbean Islands and their feet firmly rooted in the Appalachian Mountains, Guano Boys, offer original sounds in the style of reggae, soca, ska, and calypso with an occasional roots cover. The diverse instrumentation ranges from clawhammer banjo, accordion and steel guitar, to trombone, baritone sax and electric guitar with acoustic bass and organ. The resulting chemistry is a sound that is instantly identifiable yet always interesting and unpredictable.
The Guano Boys are Shallel Ken Inglima (keyboards), Christopher Leva (vocals, guitars), Vaughn Mairs (acoustic bass), Spencer Lathrop (drums), Mark Maynard (trombone), Jeff Saine (steel guitar, accordion), Nate Hawkes (baritone sax), Matt Wyatt (percussion) (not pictured).
The Guano Boys recording, Guano Happens, has sold out at most local music stores, but will be available at this performance.