Saturday, June 16, 2007
All cabaret shows begin at 7:30 pm, Doors open at 6:30 pm.
Tickets are $15, with food (by reservation only)
Please call 434-361-1999 for reservations.
Nelson County's own Molimo
(Kevin Crowe, Jim McAvoy, RW Smith & Tom Serrano)
From Molimo's myspace page:
Molimo is a ritual in which music is used to heal a group that feels themselves to be out of balance with nature. It also describes the sacred instrument played in the ritual. The mythical white elephant embodies the spirit of Molimo – the possibility of redemption, the return of "soul."
In this spirit we play songs that call us to engagement to community – to stand against the madness……stand with us!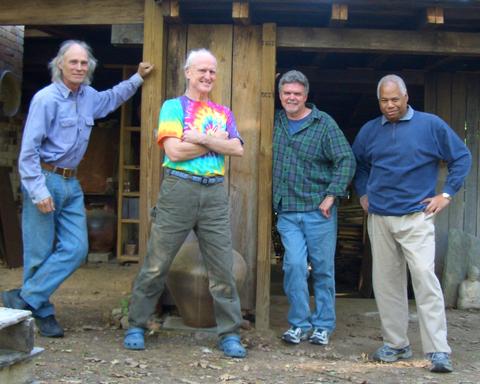 Kevin Crowe – songwriter, bass, vox, guitar: a childhood divided by Japan and Virginia…English degree leveraged a life of songwriting, carpentry and wood fired pottery….favorite color: wood ash
Jim McAvoy – songwriter, guitar, harmonica, vox: native Virginian from Maine who builds things that work.
RW Smith – producer, bass, guitar, keyboard, vox: Texas roots and a musician since the age of 10… from Africa, Europe and 'round to Asia working the oil fields and absorbing a myriad of musical influences.
Tom Serrano – conga and percussion: From Puerto Rico via New York with a taste for Salsa (and chips).