Adapted & Directed by Sara Holdren
Friday, November 12 at 7:30 p.m. is SOLD OUT
Saturday, November 13 at 7:30 p.m. is SOLD OUT
From The Cellar at Four County Players,
for 4 performances only, November 11-13, Thu., Fri. & Sat. at 7:30 p.m. and a special Saturday Matinee at 2:00 p.m.
Shakespeare's final great masterpiece. A work of magic, mayhem, and mystery. An all-powerful sorcerer's goodbye to his art. A play about plays, about creation, about spirits and demons, and about a little island lost in a soundless sea…
"This is a well-done, thoroughly enjoyable production … — absorbing and compelling throughout." Daily Progress
Admission $10, $5 for 10 & under.
Family Rate $25.
Reservations advised, 434-361-1999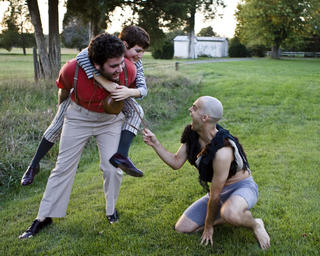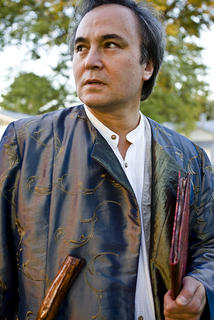 (left) Stephano (Noah Grabeel) & Trinculo (Charlotte Bush) encounter Caliban (Julian Oquendo)
(center) Prospero (John Holdren)
(right) Stephano (Noah Grabeel) & Trinculo (Charlotte Bush) reunited.
Photos courtesy Pernmoot Photography
Thursday, November 11 at 7:30 p.m.
Friday, November 12 at 7:30 p.m. SOLD OUT Free IMPROV with HIT follows.
Saturday, November 13 at 2:00 p.m. Saturday Matinee
Saturday, November 13 at 7:30 p.m. SOLD OUT
"Maybe more Shakespeare should be performed in tiny black box theaters. Here, Sara Holdren and some very nimble actors have used every inch of space and then some. ..a unique, utterly enjoyable take on one of Shakespeare's most loved plays, and it's well worth watching." Daily Progress
"Holdren's production is one audiences will try hard to remember once they wake up from her dream." Orange County Review
"Director Sara Holdren infuses the play with beauty and surprise…"C-ville News